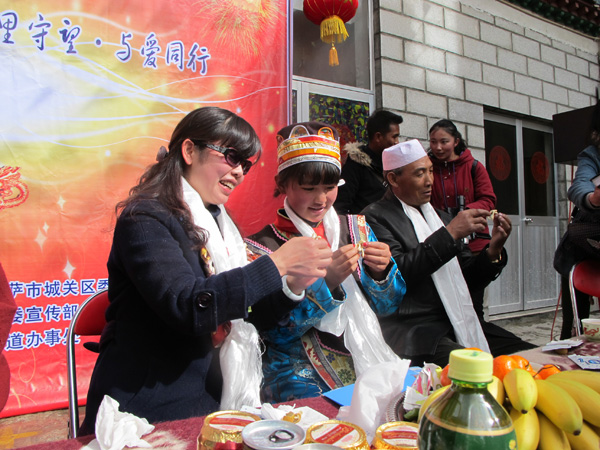 A Han woman (left) and a Tibetan girl make traditional local food in Lhasa on Sunday, to greet Spring Festival and Tibetan New Year, both of which come on Thursday. Palden Nyima / China Daily

The streets are more crowded and business is booming in Lhasa at the approach of Losar, Tibetan New Year, which coincides this year with the traditional Chinese Spring Festival.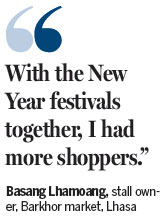 This year, New Year falls on the same day, Thursday, in both traditions. Losar dates to about 100 BC, the time of the ninth king of Tibet, Pude Gungyal. The celebration runs as long as 15 days.
Although the heavy snow that fell in Lhasa two days ago has not melted yet, residents are gearing up for the festival. Many of the hot shopping spots, such as the Ramoche Road and the Barkhor Shopping Mall, are packed with customers.
"My business is much better than last year. With the New Year festivals together, I had more shoppers," said Basang Lhamo, a stall owner in the Barkhor market.
"I did not have time to prepare for my own Losar," said the 38-year-old, adding that she will close her business on Tuesday, one day before New Year's Eve.
As hordes of shoppers prepared for the festival, some bus drivers find it difficult to avoid traffic jams. "Ahead of Losar, with buses and streets crowded with people, it is hard to keep the bus moving smoothly," said Nyima Tsering, a driver in Lhasa.
Karma Sonam, 43, a restaurant owner in the city, said his business has boomed this month. "My restaurant has been so full that my wife and our staff don't have time for lunch most of the time," he said. His family will travel to Xigaze for the festival, and he will give the staff a 15-day holiday.
Sonam Droma is a Tibetan woman who married a Han. They plan to spend the festival on the grassland. "It is more fun to embrace Losar in a remote grassland, as we enjoy the evening bonfire dancing and singing," Sonam Droma, 27, said. "It is happier on the grassland."
Features of the festival include activities such as eating guthuk - a kind of noodles - expelling evil, pilgrimages to temples, parties, circle dancing and singing. "Traditionally, guthuk contains nine ingredients, such as yak meat, cheese, a wild sweet potato called toma, cabbage, wheat, barley, beans, water and salt," said Choezin Lhamo, a 13-year-old Tibetan girl in Lhasa. "Each of the nine elements you find in your guthuk has a symbolic meaning."
On the morning of the first day of the festival, Tibetan residents in Lhasa will cook changku - cheese, brown sugar and roasted barley flour boiled in barley wine - an activity followed by good-luck offerings to each other made from chemar, a mixture of roast barley flour and butter.
Many residents of Lhasa make a pilgrimage to Buddhist temples in Jokhang and Ramoche, as well as to the Potala Palace.
palden_nyima@chinadaily.com.cn