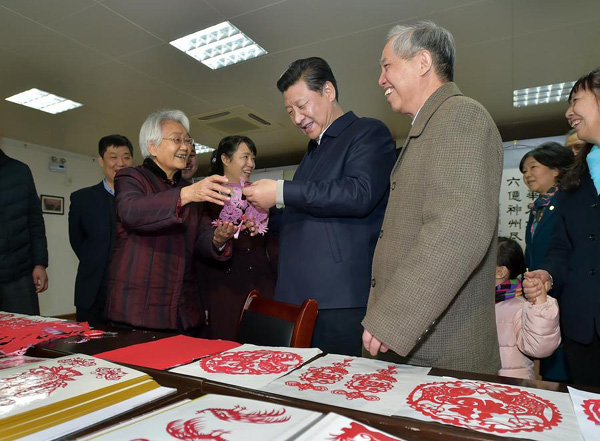 Chinese President and General Secretary of the Communist Party of China Central Committee Xi Jinping (C), also chairman of the Central Military Commission, holds a paper-cut work and offers Lunar New Year greetings to the Chinese people as he visits a community service center in Dianzicheng Subdistrict, Xi'an, the capital of Northwest China's Shaanxi province, Feb 15, 2015. Xi made a tour in Shaanxi on Feb 13-16, and extended festival greetings to locals and people across the nation ahead of the Spring Festival, which falls on Feb 19. [Photo/Xinhua]
XI'AN - President Xi Jinping wants to end poverty in old revolutionary base areas and improve local people's standard of living.
Xi made the remarks on Feb 13 on a tour of Shaanxi province.
"A well-off society is incomplete if people in old revolutionary base areas cannot shake off poverty," said Xi during a meeting with party chiefs of 24 counties and cities from Shaanxi and Gansu provinces and Ningxia Hui autonomous region.
Xi expects financial support and preferential policies to bring prosperity to local people.
The president encouraged the regions to make the best of what they had and develop new industries, allowing local enterprises and brands to flourish, but with an absolute ban on pollution and excessive exploitation of resources.
Xi also met villagers from Liangjiahe, where he worked as a rural laborer during the Cultural Revolution. At the meeting he said revolutionary bases were the roots of the Party and the army and they should not be forgotten, as wisdom and power is obtained from history.
"Without the development of old revolutionary bases, we will not be able to achieve a moderately prosperous society," said Xi, who urged Party committees and governments to focus on the development of those areas, so the local people could reap the benefits.
During his tour, Xi went to Yan'an, Tongchuan, and provincial capital Xi'an, to inspect villages, schools, communities, research institutions and revolutionary memorial sites, and extend Spring Festival greetings to the public.