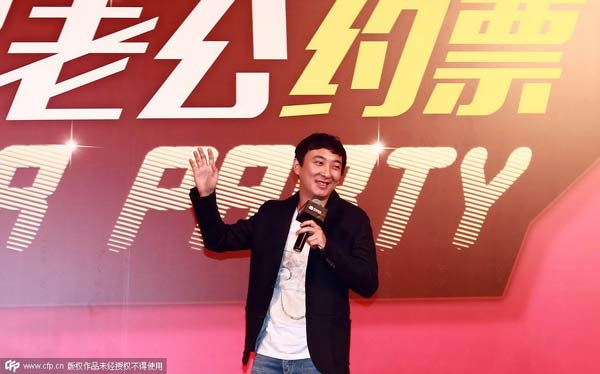 Wang Sicong attends the charity event at a branch of his family's theatre chain. Feb 14.[Photo/CFP]
The son of China's second-richest man is at the center of a media storm after telling reporters on Valentine's Day that his top criteria for choosing a girlfriend was that she had to be " buxom".
Wang Sicong, the outspoken only son of real estate tycoon Wang Jianlin, made the comment at a charity event at a branch of his family's movie theatre chain in Beijing.
Xinhua News Agency criticized him, saying he was spreading "undesirable obsessions with money, sex and violence".
The 26-year-old, who is a board member of his father's Wanda Group and chairman of Prometheus Capital, a private equity investment firm, helped raise more than 500,000 yuan ($79,950) for the China Next Generation Education Foundation by auctioning the opportunity to watch a film with him on Valentine's Day. He also donated a further 500,000 yuan.
The following day the official Sina Weibo account of Xinhua carried a signed commentary accusing Wang of "breaching the bottom line of morals".
It said: "A certain rich second generation boasted about 'buxom' women on Valentine's Day, recklessly revealing vulgar information about the worship of money to sex and violence.
"Certain celebrities not only fail to take responsibility for promoting mainstream values, but also spread vulgar ideas. They don't see it as a shame but instead see it as their own 'distinctive personalities'".
Wang, known for daring and sometimes controversial comments on Weibo, reposted the commentary, saying: "I just forward it, not saying anything."
Hours before the Xinhua commentary, Wang had posted anther message on Weibo, saying that he "apparently made a joke" and "can't believe someone had taken it seriously. He asked: "Am I that shallow?" followed by three "angry" emojis.