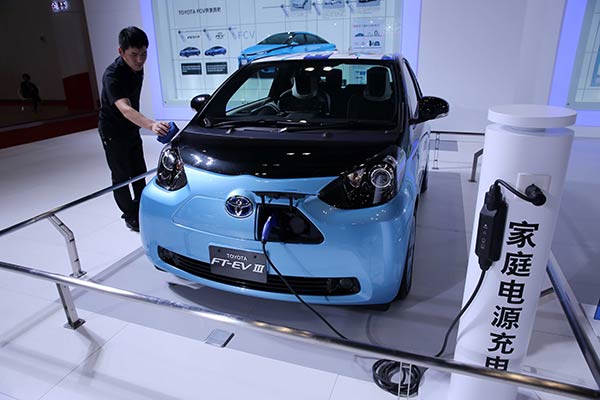 Homeowners can install private charging poles for new-energy cars, such as this one on display at the International Energy Conservation and Environmental Protection Exhibition in Beijing. The lack of charging poles has been a major obstacle to the development of new-energy vehicles in China. [Chen Ming / for China Daily]
'Green' vehicles are proving popular in China, but their growth is being undermined by an immature infrastructure and a lack of charging stations, as Zheng Jinran reports.
Li Yongning is a regular visitor to the Huamao Center, a busy business cluster in the Chaoyang district of Beijing that houses famous designer outlets, high-end jewelry shops, and fine restaurants.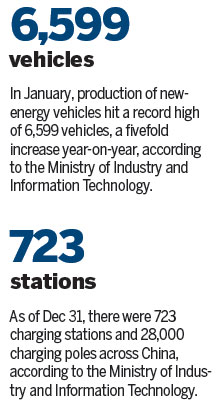 However, the 59-year-old Beijinger isn't interested in clothing, fine furniture, or haute cuisine. Instead, he visits the center every few days to charge his son's electric car, a Chinese-made BYD E6, which until recently was a headache rather than the help it was intended to be.
"It's impossible to charge the vehicle near our community because there are no suitable charging poles," Li said. "Until the center opened we had to drive more than 40 kilometers to the 4S store where we bought the car, so it took about six hours every time we wanted to charge it."
The car, which the makers claim has a range of about 300 km per charge, has been a source of headaches since it was purchased five months ago, and Li's son even had to arrange for it to be towed to a charging station after the battery ran out unexpectedly en route, despite registering 30 percent power.
"My son bought the car because it's much easier to get a license plate for new-energy vehicles in Beijing and he needed a car to ferry his newborn baby around," Li said, "But most of the time, it's just been an expensive decoration in the garage."
According to Yu Bo, head of operations at Tellus Power Inc, which built Beijing's largest public charging station, new-energy vehicles are popular with young, middle class people, such as Li's son, both at home and abroad, but the charging issue has become a pervasive problem.
The 100 charging poles in the station at the Huamao Center, which opened on Jan 19, can charge all existing alternative-fuel vehicles, including the imported Tesla Model S and other big-name brands.
"We chose to locate the station at the Huamao Center because it's an upscale community that's home to a large number of wealthy, middle-class young people," Yu said, adding that the company's research indicated at least 200 alternative-fuel vehicles, including imported luxury brands, within a 5-km radius of the center.
Yu said it usually takes about 20 minutes to fully charge a car such as the E6, and each kilowatt-hour costs members 0.8 yuan, meaning that Li's son pays about 45 yuan ($7) in total. For Li, however, the charging fee is irrelevant so long as the car spends more time on the road than in the garage.