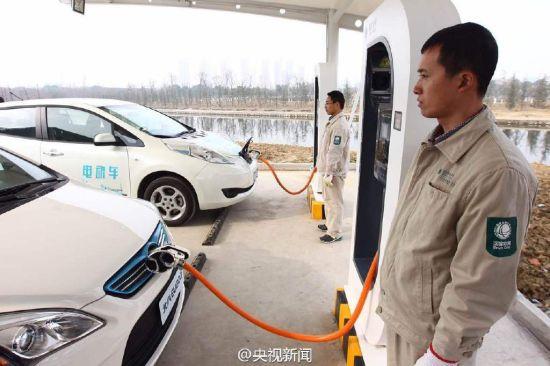 A charging station for electric vehicles along the Beijing-Shanghai Highway. [Photo/Official Weibo account for CCTV News]
A 1,200-kilometer highway that links two of China's biggest cities is being equipped with a charging system for electric vehicles, a big sign of improvement in the development of such facilities.
Despite a number of measures taken by the government in recent years to encourage the development of electric cars, they account for only a fraction of all cars sold, due to such obstacles as a lack of charging stations, said experts.
Five electric cars embarked on Saturday on a trip along the Beijing-Shanghai Highway, the first attempt by electric cars to drive on the 1,262-kilometer highway, China Central Television reported. In both directions on the highway, charging stations have been installed every 50 km, the report said. These can fully charge a car within 30 minutes, it added.
Considering the prices of electricity, which range between 0.65 yuan (10 cents) to 0.8 yuan per kilowatt hour, the driving cost of an electrical vehicle will be just half of the cost for operating a fuel-driven car over the same distance, the report said. The State Grid Corp of China, the largest grid company in China, has installed 24,000 charging sites in China, covering 2,900 km of roads, according to CCTV.
"In the past two years, the State Grid Corp has done a lot to help promote electric cars," Zeng Ming, a professor at North China Electric Power University, told China Daily. "The company is planning to invest nearly 10 billion yuan to build charging facilities to promote the use of electric cars."
With the rising concern of pollution caused by the rapid increase in the number of fueled motor vehicles, the government has taken a number of measures in recent years to encourage the development of electric vehicles, including a reduction in purchasing taxes for those who buy such vehicles.
It is estimated that 60,000 electric and hybrid electric vehicles were sold in China last year, making China the second-largest market for such vehicles in the world behind the United States, according to the China Association of Automobile Manufacturers. The overall number of cars in China exceeded 150 million last year, according to media reports.
Most electric cars available on the market can run for about 200 kilometers before the battery must be changed or charged, and few roads or residential areas are equipped with charging stations, said Ning Guobao, deputy CEO of Tianjin Santroll Electric Automobile Co. It is very difficult for residential areas to be equipped with charging sites, which require big investments and enough room, according to Zeng.