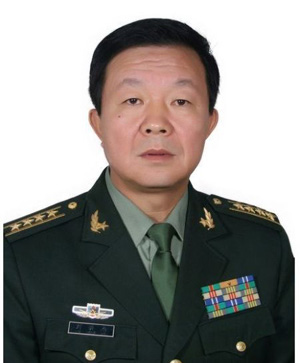 Major General Liu Hongjie in file photo.
Another senior Chinese military officer has been detained on suspicion of corruption as China continues a sweeping campaign to stamp out graft in the armed forces, Xinhua reported.
Xinhua said Beijing's legislature Friday approved a proposal from the People's Liberation Army (PLA) for "coercive measures" against Major General Liu Hongjie, who was in charge of logistic support, on corruption charges.
The move had to be submitted by military procuratorate of the PLA General Staff Headquarters prosecutors and approved by the 14th standing committee of the Beijing Municipal People's Congress, because Liu is one of its serving deputies, according to Xinhua.
Liu had been placed under "coercive measures" as he was suspected of having abused his power and taken bribes in 2013, the military procuratorate was quoted as saying by Xinhua.
Under China's criminal procedure law, coercive measures include summons by force, bail, residential surveillance, detention and arrest.
China has launched probes into more than a dozen senior PLA officials on serious graft charges during the country's anti-graft drive.
President Xi Jinping, the chairman of the Central Military Commission, has also vowed to eradicate corruption in China's armed forces.
Xu Caihou, former vice-chairman of China's Central Military Commission (CMC), confessed to taking huge bribes after PLA prosecutors completed investigating him in late October last year and began filing the case.
Xu is the highest-level PLA officer to be investigated and charged in more than 30 years.
Gao Xiaoyan, deputy political commissar and chief of discipline inspection at PLA Information Engineering University, has been placed under internal investigation for alleged corruption in late 2014.
Gao is believed to be the first female general to be investigated since the new leadership took office.
Yang Jinshan, lieutenant general of the PLA ground force and former deputy commander of the Chengdu Military Command was expelled from the Party in last October for gravely violating internal discipline.
Gu Junshan, deputy head of the PLA general logistics department, was charged with embezzlement, bribery, misuse of state funds and abuse of power in March last year.
Other high-ranking officers probed include Dai Weimin, deputy president of PLA Nanjing Political College; Ye Wanyong, former political commissar of the Sichuan Provincial Military Command; and Wei Jin, deputy political commissar of the Tibet Military Command. All are PLA ground force major generals.