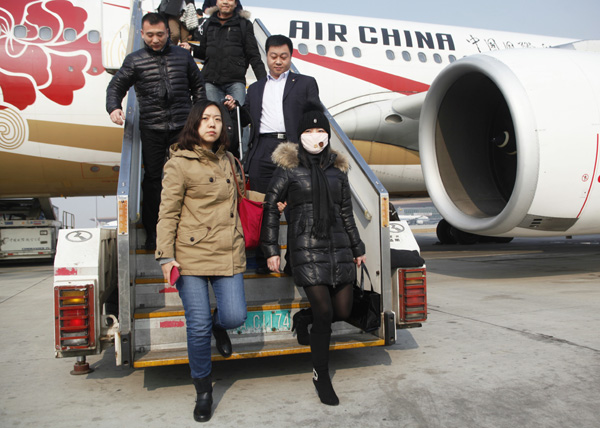 An economic fraud suspect (right) is returned to Beijing under police escort on Tuesday after 10 years on the run in Italy, marking the first extradition of its kind to China from a European country, according to the Ministry of Public Security. The suspect, who worked at a securities company in Hebei province, is suspected of stealing more than 1.4 million yuan ($223,700) from clients between January 2000 and January 2005. [Photo/Xinhua]
LOS ANGELES - Senior US officials will meet in August with their Chinese counterparts to discuss the possibility of repatriating Chinese officials who have fled to America with billions of dollars of allegedly stolen government assets, according to a US State Department official.
The issue is a thorny one, as no extradition treaty exists between the US and China. That has made America, and other countries such as Australia and Canada, attractive destinations for Chinese officials fleeing the country and a haven for the assets they have allegedly stolen.
Officials from both countries met for two days in the Philippines last month, with the US delegation led by David Luna, the US State Department's senior director for National Security and Diplomacy.
Luna confirmed to Reuters that he attended the meetings and said talks will reconvene in August and will include law enforcement and legal experts. The countries will share specific intelligence on allegedly corrupt Chinese officials and stolen assets and will also discuss potential ways to send the fugitives back to China.
The Chinese Foreign Ministry confirmed Wednesday that the two sides will hold a meeting in August in the Philippines to talk about the issue.
Alternatives to extradition exist, US officials say, including deportation for violations of US immigration law.
Canada, which has no formal extradition treaty with China, has recently expelled suspects wanted by Beijing, including Lai Changxing. Lai, a businessman wanted for corruption, was sent back to China from Canada in 2011 on the promise that he would not be executed. He was sentenced to life in prison.
Last year Chinese officials said more than 150 "economic fugitives", many of them described as corrupt government officials, were in the US. Neither country has publicly provided a figure for how much stolen money has been smuggled out of China and into the US.
But the Washington-based Global Financial Integrity group, which tracks illegal outflows from countries, estimates that between 2003 and 2012, $1.25 trillion of illicit cash left China. Some of that moves around the world through dummy bank accounts and other means, and once in the United States, it is often invested in real estate, making its original source hard to trace.
The preliminary talks between US and Chinese officials were held on January 27 and 28 in Clark, Philippines, as part of an Asia-Pacific Economic Cooperation (APEC) international working group, called ACT-NET. The group, which involves multiple APEC countries, including Russia, was formed in Beijing in August 2014 to fight cross-border corruption.
The talks took place amid an intensifying and far-reaching anti-corruption drive in China by President Xi Jinping, and a ramping up of efforts between the US and China, including the sharing of criminal intelligence, to crack down on cross-border corruption.
ALTERNATIVES TO EXTRADITION
It was agreed after the talks that more formal negotiations within the ACT-NET forum will take place in August back in the Philippines, which chairs APEC for 2015. The US delegation will likely include officials from the State Department, the Department of Justice, and the Department of Homeland Security, Luna said.
Luna said law enforcement officials from both countries will discuss specific cases and possible joint investigations into Chinese fugitives and stolen assets.
"There are alternatives to extradition", Luna told Reuters. He said legal avenues being explored to potentially circumvent the lack of an extradition treaty between the US and China include the United Nations convention against Corruption, and the UN convention on Transnational Organized Crime.
Luna said there is no formal agreement to return stolen assets to China, but the issue is "part of an ongoing bilateral dialogue, there are ongoing cases, and it is a priority." He refused to divulge details about any specific investigations.
The US has applauded China's recent anti-corruption campaign and is invested in helping in the fight, and more generally in fighting international corruption. Part of the APEC leaders' declaration after their 2014 summit in Beijing was a commitment to "deny safe haven for corrupt officials and their illicitly-acquired assets."
In December Luna's boss, William Brownfield, the US State Department's assistant secretary for international narcotics and law enforcement affairs, said both countries had identified "a finite number" of alleged Chinese fugitives "and agreed to develop a strategy to address each of those."
Brownfield spoke after a December meeting in Beijing of the US-China Joint Liaison Group on Law Enforcement Cooperation, a separate forum from the APEC group that met in the Philippines.
Heading the Chinese delegation in the Philippines, according to an agenda seen by Reuters, was Cai Wei, deputy director general of China's Department of International Cooperation in the Ministry of Supervision. Also present was Chen Long, director of the Department of International Cooperation.