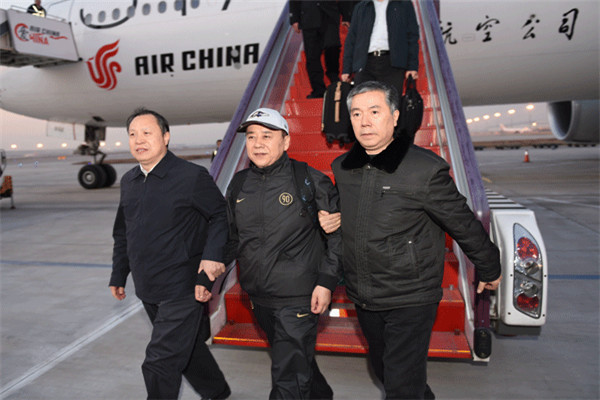 A former high-ranking official on run arrives at Beijing Capital Airport on Dec 22, 2014, after he turned himself in to the police. [Photo/Website of Central Committee for Discipline Inspection]
BEIJING -- A recent survey found 70 percent of respondents were satisfied over the progress of the country's anti-graft campaign, China Youth Daily reported.
The respondents listed the downfall of a batch of "big tigers" or high-ranking officials, cracking down on corrupt officials fleeing abroad, and a purge of "naked officials", which refer to those whose spouse and children have emigrated overseas, as the top three biggest results in 2014.
The survey sampled 2,167 people, with employers ranging from private and state-owned companies to government agencies.
Some 82.3 percent of those polled, however, believe the situation remains grave and the fight against graft still has challenges ahead.
The most anticipated anti-graft moves in 2015 include bringing down corruption in common people's daily life, ferreting out more "big tigers," and the continued hunt for fugitive officials and their illegal gains, the survey said.
After taking the helm of the Communist Party of China in November 2012, top leaders resolved to target both high-ranking "tigers" and low-ranking "flies" in their corruption fight.
The past year has seen a major breakthrough of the nationwide anti-corruption campaign with the biggest "tiger" being netted in more than 30 years.
Ex-security chief Zhou Yongkang is the highest-ranking official to become ensnared in the national campaign against corruption and has been transferred to prosecuting authorities along with 29 other former top officials, the CCDI announced last week, saying their trials will be held soon.
Zhou was arrested in December, expelled from the Party and placed under a judicial investigation regarding a series of allegations, including taking bribes and "leaking state secrets".
Meanwhile, judicial authorities have secured the return of more than 500 economic fugitives, including many alleged corrupt officials, from abroad.
A major cleanup of the armed forces has brought down 16 senior officers in the military for illegal conduct, including Xu Caihou, the former vice-chairman of the Central Military Commission.
The CCDI stressed the importance of improving the anti-graft mechanism and called for further steps to legitimize the dual leadership structure of anti-graft departments at different levels.