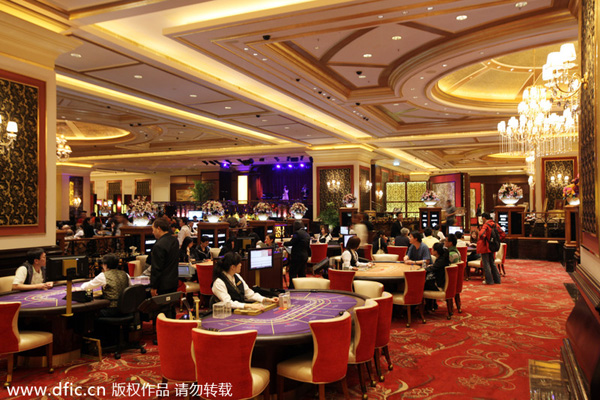 Customers are seen gambling the casino of Plaza Macao in Macau, China, April 11, 2012. [Photo/IC] 
China will strengthen supervision of assets that corrupt officials transfer abroad illegally through gambling houses in Macao, the Ministry of Public Security said on Tuesday.
"Once a suspicious flow of capital being sent overseas through casinos is discovered, ... the People's Bank of China will inform us quickly and provide intelligence for us to conduct further investigations," a senior official from the ministry told China Daily.
The South China Morning Post in Hong Kong reported that ministry officials will travel to Macao in the coming week to meet with directors from Macao's financial supervisory authority and bankers. They will discuss combating such crimes.
In recent years, many corrupt Chinese officials have transferred their assets acquired illegally to overseas destinations through money laundering and some underground banks, including through Macao casinos.
They have then fled to the United States, Canada and Australia to avoid punishment.
According to the Macao Financial Intelligence Unit, from January to June 2013, the city's gambling industry received more than 900 reports of suspicious activity, an increase of more than 31 percent compared with 2012.
Dai Peng, director of the Criminal Investigation College at People's Public Security University of China, said the Foreign Exchange Control Regulation prohibits Chinese from carrying or sending large amounts in foreign currencies to overseas countries.
Many corrupt officials tend to gamble in Macao casinos, through which they transfer their ill-gotten assets abroad with the help of underground banks.
In July, the ministry launched the "Fox Hunt 2014" campaign to target corrupt Chinese officials at large overseas and confiscate assets they acquired illegally.
The ministry said that by the end of December, police had brought back 680 economic crime suspects, including many alleged corrupt officials.
The Ministry of Justice has said China will strengthen financial exchanges with the US and Australia to track corrupt Chinese officials' illegal assets and combat money laundering.
Huang Feng, a law professor at Beijing Normal University, said, "The financial supervisory authority should monitor the assets that corrupt officials transfer abroad.
"It should also step up action against lawyers who help them to transfer their funds through money laundering."
China should impose harsher punishment on suspects convicted of money laundering, he added.
zhangyan1@chinadaily.com.cn