A TransAsia plane with 58 people on board turned on its side in midair, clipped an elevated roadway and careened into a river Wednesday shortly after takeoff from Taipei, Taiwan.


China Daily Websites delivers the latest updates on the tragedy.

(Are you affected by this story? You can get in touch by emailing webeditor@chinadaily.com.cn . If you are available to speak to a China Daily journalist, please include a telephone number.)

Highlights:
** 25 people confirmed dead and other 18 missing
** 31 mainland tourists aboard, of them 6 confirmed dead
** Engine failure suspected to have caused plane crash
** Hotline: 2720-5892, 0592-7227777 (reserved for mainland tourists)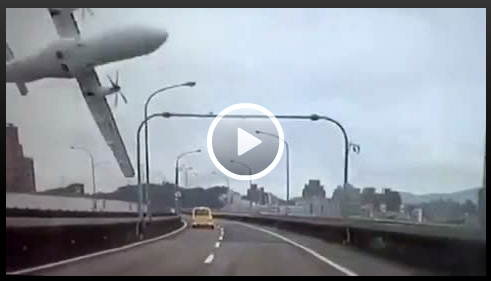 Video: Plane with 53 passengers aboard cartwheeling over the motorway.

22:57 Live coverage ends
It comes to the end of our live coverage on the plane crash in Taiwan. The recovery operation is under way as the rescuers are racing against time to search for the 18 people missing in the crash. You can continue to get the latest developments on our main story.


22:30 Crashed Taiwan plane hoisted from river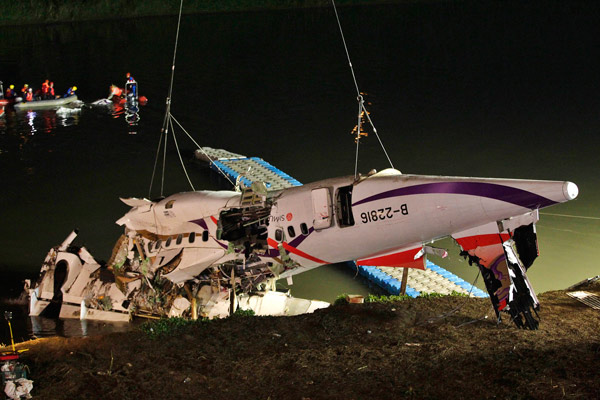 The wreckage of the aircraft was recovered from the river. [Photo / Agencies]
Rescuers used a crane to hoist a wrecked TransAsia Airways plane from a shallow river in Taipei late Wednesday, as they searched into the night for 18 people missing in a crash that killed at least 25 others.
Rescuers in rubber rafts pulled 15 people from the wreckage during daylight.
After dark, they brought in the crane, and the death toll was expected to rise once crews were able to search through previously submerged portions of the fuselage.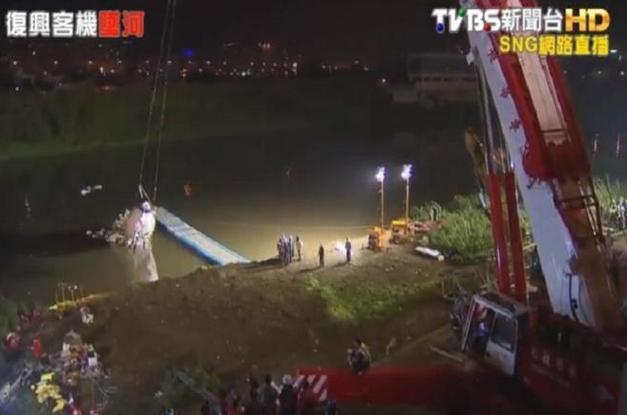 A screen shot from Taiwan broadcaster TVBS.
22:09 Six of the 25 confirmed deaths from mainland
At least 25 people died after a Taiwan TransAsia Airways plane crashed into the Keelung River.
Six of the 31 mainland passengers, who were on organized trips and managed by two travel agencies from Xiamen city, are confirmed among the deaths.
Xiamen police have fastracked travel documents for families of the mainland tourists on board so they can leave for Taiwan as early as possible. Some are expected in Taiwan tomorrow.
21:46 Survivor says engine 'did not feel right'
A 72-year-old passenger who survived the TransAsia plane crash said the plane engine did not feel right shortly after takeoff.
"There was some sound next to me," he said.
Moments before the plane banked sharply and crashed, one of its pilots told the control tower, "Mayday, mayday, engine flameout," according to an aviation official who asked not to be identified.
"Engine flameout" refers to flames being extinguished in the combustion chamber of the engine, so that it shuts down and no longer drives the propeller.