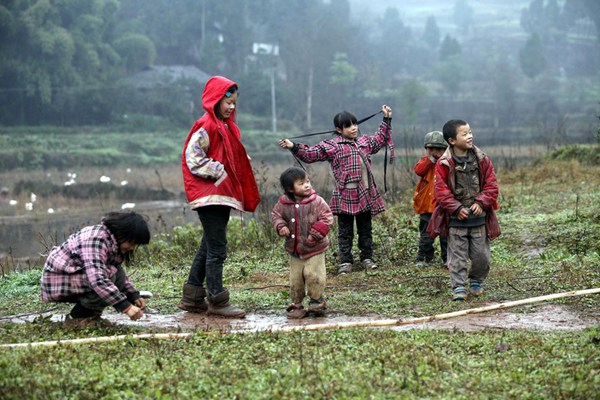 A picture taken in January shows six of He Hong's children playing on uncultivated land near their house. [Photo/CFP]
A couple in Santai village of Sichuan province have found themselves at the center of controversy, because they have 11 children and were not fined for exceeding the limits set by China's family-planning policy, the Southern Metropolitan News reported.
Moreover, aside from the youngest child who has been adopted by relatives, ten of the children have been registered in the household registration system.
The husband, He Hong says he wants his children to improve the lot of this poor family. If one of the children were successful, his family would be lifted from poverty. So he thinks the more children he has, the more likely the family fate will be changed.
The wife, Zhang Xingzi says neither her husband nor her know of contraception or birth control measures.
The couple adds that they are too poor to pay the fine for breaking the family planning policy.
However, other villagers have a different statement. They say He Hong's brother He Xuewen is the party secretary of Santai Village. They say he pulled strings for He Hong so that he didn't have to pay the fine.
Many villagers also complain that He Hong's family are enjoying a monthly 880-yuan national subsistence allowances as well as many other assistance funds.
But their oldest child has left home and sought opportunities in better places.
Their second oldest child dropped out of school 2 years ago. He says he's living in a "dark trap" and can't find any hope. He plans to go to big cities when he grows up and change his destiny.
Due to malnutrition, the nine children at home are thin pale, compared with other children of the same age.
"Saving people is more hopeful than saving money"- a perspective that He Hong has been holding for 20 years has been stricken.
But now, He says he feels very lonely and has been looked down upon.