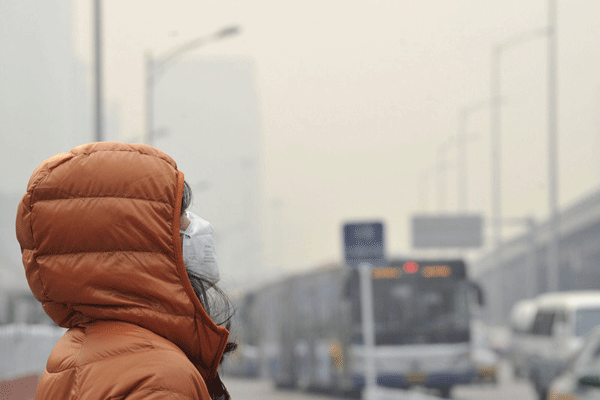 A woman wearing mask looks up into the hazy sky in Beijing on Wednesday. Beijing issued a smog alert on Wednesday, days after the conclusion of the APEC summit. The hazy smog is expected to disperse tomorrow. [Photo/IC]
BEIJING -- China's national observatory on Sunday continued a yellow alert for lingering smog in some northern and eastern regions.
From Sunday to Monday morning, smog will continue to shroud some parts in Beijing, Tianjin, provinces of Hebei, Heilongjiang, Jilin, Liaoning, Henan, Shandong, Anhui and Jiangsu, the National Meteorological Center (NMC) said in a statement.
The smog will be dispersed by a cold front starting from Monday afternoon. The cold front will bring temperature drops of up to 12 degrees Celsius to Central and Eastern China.
From Tuesday to Friday, rain and snow will sweep a vast part of central, eastern and southern regions, according to the NMC.
China has a four-tier color-coded weather warning system, with red representing the most severe weather, followed by orange, yellow and blue.