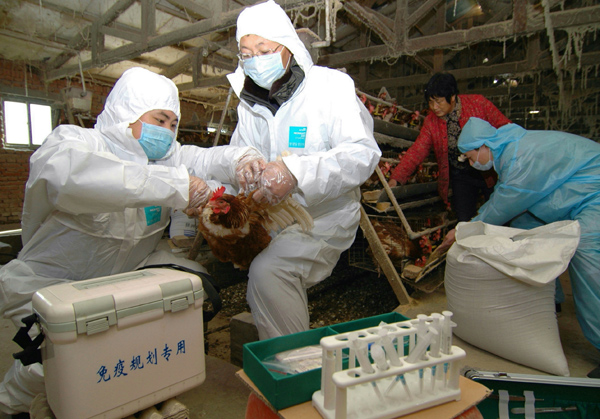 Technicians collect blood from a chicken to help poultry feeders disinfect the farm in Linghai, Liaoning province, on Tuesday. LI TIECHENG/CHINA DAILY
China will likely see more sporadic cases of infection by the H7N9 avian flu during its high season, which runs through winter to spring, but the chances of a mass outbreak remain quite slim, said a top expert.
Hou Yunde, a virologist and an academician at the Chinese Academy of Engineering, made the remarks as the latest human infection of H7N9 avian flu was reported in Shandong province on Tuesday.
The victim was a 60-year-old farmer in Linyi who was infected while working in neighboring Jiangsu province. He was taken to a hospital on Jan 7 and died 10 days later.
Several provinces in southern and eastern China have reported human infections by the virus, including 12 in Guangdong and 15 in Fujian, statistics from health authorities showed.
The H7N9 strain of bird flu was recognized in March 2013 and so far has infected nearly 500 people in the country, Hou said. Roughly 39 percent of the human cases have ended in death.
The virus infects birds and humans, but infected birds show no symptoms, which makes intervention and prevention of human infection even more difficult, he noted.
"The coordination and information exchange must be strengthened when it comes to prevention of human infections," Hou said.
"Management of the live poultry market should not only consider economic factors but also epidemic control," he said, adding that the live poultry trade remained open in many parts of China despite the high bird flu season.
Live poultry markets are a source of human infection for H7N9, and this emphasizes the importance of active surveillance at poultry farms, said Shu Yuelong, director of the Chinese National Influenza Center.
The latest finding has been published in the online journal Scientific Reports, which is owned by the journal Nature.
Closure of live poultry markets helps prevent the virus from jumping from birds to humans, Hou said. He urged people to shift to processed poultry consumption.
Since early January, China has banned imports of US poultry products-mostly processed-to curb bird flu.
However, Hou said that's not scientifically supported.
Since 2013, H7N9 has become the dominant virus affecting birds and people in China, and it has so far been limited to the country, he added.