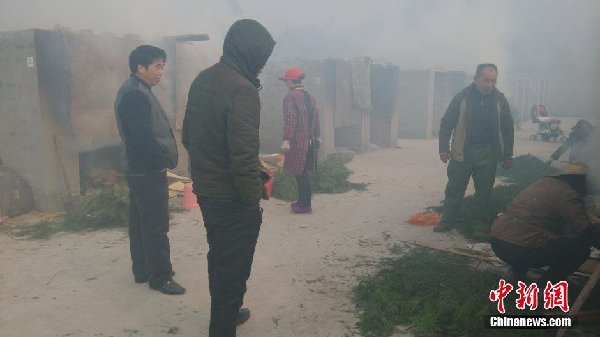 Locals make smoked bacon with pine tree leaves in Dazhou, Sichuan province, Jan 20, 2015. [Photo/chinanews.com]
CHONGQING - Residents in Southwest China's Chongqing municipality have been banned from making smoked bacon, a traditional method of preserving pork, as it is blamed for causing foul air in the city.
Starting from Jan 20, the Chongqing's Environment Protection Bureau (CEPB) joined forces with the municipal departments of public security, city planning, food and drug administration and others to stop bacon smoking in major districts of the city.
Eating preserved pork and sausages is a long-held tradition in Chongqing and the neighboring Sichuan Province, with many households making smoked bacon before the Chinese lunar new year, which falls on Feb 19 this year.
According to the bureau, burning materials in the open air and making "firewood chicken", a delicacy cooked with lots of firewood, are also prohibited. Highly polluting burning materials will be replaced with clean energy such as natural gas, electricity and liquefied gas. Anyone caught violating the rules will face a punishment of up to 5,000 yuan ($805), the bureau said on its official website on Wednesday.
The CEPB said it has received scores of complaints from local citizens about bacon smoking recently. Chongqing's PM 2.5 readings have soared lately, and the bureau cited smoking bacon, burning materials in the open air and making firewood chicken as the major contributors based on its latest analysis.
PM 2.5 is a particulate matter with a diameter less than 2.5 micrograms which causes hazardous smog.
Chongqing's "anti-bacon" campaign came days after an official of its neighboring city Dazhou caused a wave of controversy for blaming lingering smog on smoked bacon. Rao Bing, deputy head of Dazhou Environment Protection Bureau, said that one of the causes of the city's acrid smog is smoking bacon.
Dazhou's chengguan, or public civil servants, have started to raid and forcibly demolish meat-smoking sites.
But according to volunteers at Bayu Public Welfare Development Center, a non-government environmental protection organization, which conducted a three-day survey at a dozen bacon-smoking sites, smoking meat does contribute to air pollution, but only to a small degree.
"The impact of the smoking process is confined within a 50-meter radius," a volunteer told the Chongqing Evening News.
The Chongqing campaign invited public ridicule and skepticism on the Internet, with netizens saying that the government "should probably ban cooking because it also generates air pollution."
"Maybe we should stop breathing because it pollutes the air," mocked a netizen.
It is not the first time that Chinese government officials have suggested controversial explanations for smog. In October, environmental watchdogs in Beijing and the adjacent Henan Province, two severely polluted places, blamed the smog on farmers burning straw, an agricultural practice with a long history.
In recent years, swathes of the country have frequently reported heavy smog, slashing visibility and posing health hazards. China has taken a variety of measures to contain severe air pollution, including restricting industrial production and vehicle use.