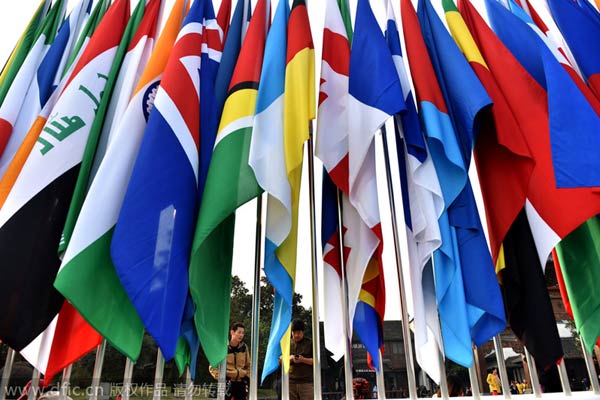 National flags of participating countries flutter outside the conference hall in Wuzhen, East China's Zhejiang province, during the inaugural three-day World Internet Conference on Nov 17, 2014. [Photo/IC]
A cyberspace rule aimed at maintaining State security and protecting the public interest will be introduced later this year, an official at China's Internet watchdog said on Wednesday.
"We're always pushing the rule, hoping it will be published and become effective as soon as possible," Peng Bo, deputy director of the Cyberspace Administration of China, said at a news conference in Beijing.
The exact timing of the rule's introduction is still uncertain, but Peng said it is expected to be published this year.
In May, the cyberspace administration said China had decided to launch a security review targeting IT products, services and suppliers preparing to enter the country's market.
The policy is aimed at preventing Chinese computer systems from being controlled illegally, disturbed or shut down by problematical IT products and the services of some suppliers, as well as protecting users' privacy.
Companies that fail the vetting process must not provide their products and services in China, the administration said.
Jiang Jun, a spokesman for the administration, said at the time that ensuring the technology used in cyberspace and computer systems is safe and under control is key to maintaining national security, and protecting the economy, social development and people's rights.
Jiang said some overseas countries' governments and corporations had used their monopolies in the technology industry to seize sensitive data and information on a large scale.
This had damaged users' interests and brought threats to the Internet, according to Jiang.
Beijing News reported on Wednesday that when Lu Wei, the administration's director, visited the United States, Apple CEO Tim Cook said he wanted to cooperate with China's cybersecurity review.
On Wednesday, the administration also said it will launch a six-month crackdown against those who profit from helping others to delete negative posts, especially officials in cyberspace and information departments.
It said even though it had introduced some measures in the past year, they had failed to stop some people taking advantage of their jobs to remove critical posts for payment.
"Benefiting from deleting online posts is a serious breach of the law and disturbs order on the Internet," Peng said, adding that it also damages the image of cyberspace in China.
He Yongqiang, an official with the administration, said a 24-hour hotline is open and people providing valuable clues will be awarded a maximum of 50,000 yuan ($8,045).