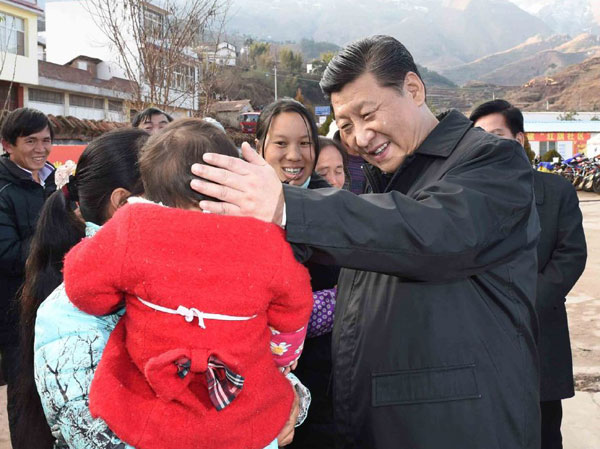 President Xi Jinping chats with quake-hit villagers from Xiaozhai in Ludian county, Yunnan province, on Monday during his first inspection tour of the year. An earthquake in August left at least 617 people dead and 112 others missing. XINHUA
Yunnan county still recovering from disaster as winter settles in
President Xi Jinping visited the quake-hit area of Ludian county in Yunnan province on Monday, inquiring about the livelihoods of the quake victims in the winter, Xinhua News Agency reported.
August's magnitude-6.5 earthquake left at least 617 people dead with another 112 people missing and 3,143 people injured. It also forced the relocation of 254,000 residents and affected more than 1.08 million people.
Xi told the quake victims that he feels for the loss of family members and friends, and was very concerned about how they were faring during the winter and with the reconstruction work.
"I was very worried about how the relocation work was going, whether you can have hot food to eat, whether the children have schools to go to and if there are medical services available," he was quoted as saying.
In a relocation camp in Xiaozhai township, Xi talked at length about issues including food, subsidies and sources of income with Zou Tifu, who was living in a tent with his grandson. He also inquired about the prices of vegetables and other groceries in the quake-hit area.
Authorities in Ludian, a poverty-stricken mountainous area in northern Yunnan, should combine reconstruction work with poverty relief efforts, he said.
Zhou Shangbi, an official with the civil affairs authority in Longtoushan township, the epicenter of the quake, said that despite efforts from authorities, there are still residents living in the remote and mountainous regions who are suffering from a shortage of necessities, including blankets and quilts.
"Some injured people missed the handout of disaster relief resources because they were being treated in hospital. They are also short of resources," she said.