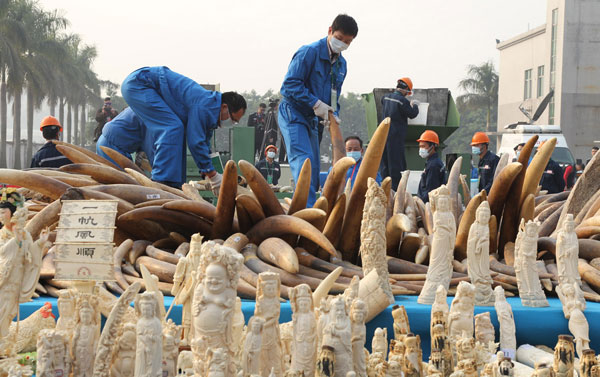 Officers from the State Forestry Administration and the General Administration of Customs, destroy 6.1 ton of illegal ivory items in Dongguan, Guangdong province, ranging from elephant tusks, to smaller carved ivory items, Jan 6, 2014. [Photo by Wang Zhen/Asianewsphoto]
SHIJIAZHUANG - Chinese police have arrested 14 suspects in a crackdown on an ivory trading ring, the public security bureau in Hebei Province's Hengshui City said on Tuesday.
Ivory products seized from the suspects were estimated to be worth more than one million yuan (160,000 U.S. dollars), the Hengshui police said. China bans all ivory trade.
Police were tipped off that sculptors who appeared to be doing business legally were actually trading ivory as part of a close-knit ring.
The police spent about 10 months infiltrating the gang and collecting evidence of the crimes, and later arrested all core members over the following three months, the public security bureau said.