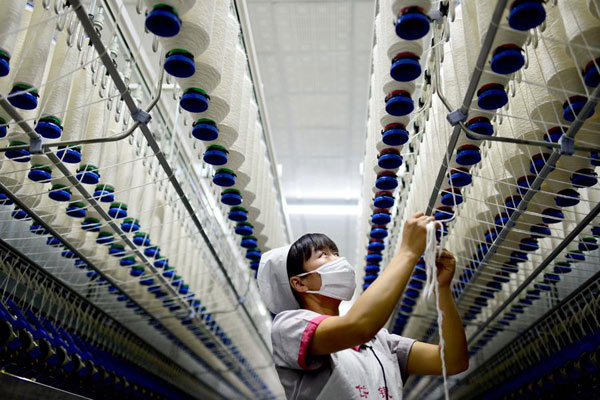 A worker at a textile company in Shandong, Oct 21, 2014. [Photo/Xinhua]
BEIJING -- China's economic growth may be as high as 7.3 percent in 2015, partly due to lower cost for growth from dropping commodity prices, an expert with the central bank's think tank said Saturday.
Song Guoqing, an academic advisor for the People's Bank of China's (PBOC's) monetary policy committee, said at a forum that the consumer price index may rise by about 1.6 percent mainly due to low commodity prices.
The sharp decline in the prices of commodities, including crude oil, iron ore and copper, presents to be a large bonus for the China's economy due to subsequent lower costs, he said.
Song's views were echoed by Ma Jun, chief economist of the PBOC's research bureau.
Ma estimates that annual gross domestic output (GDP) growth will increase by 0.12 percentage point if the crude oil price drops by 10 percent year on year, he said at the same forum.
Many institutions have painted a less rosy picture for China's economy this year, including Nomura, which said in a research note that growth may slow to 7.1 percent in the first quarter of 2015.
The Bank of Communications saw growth of 7.2 percent for the whole year of 2015 partly due to weak external demand and deflation pressures in industrial sector.
China's GDP expanded by 7.4 percent in the first three quarters of 2014, within the government'd targeted being around 7.5 percent. Data for the whole year of 2014 is expected next Tuesday.