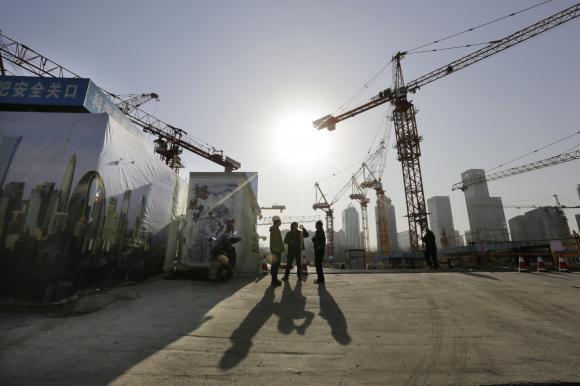 Workers chat outside a construction site in Beijing's central business district, December 29, 2014. [Photo/Agencies]
China's annual economic growth likely slowed to 7.2 percent in the fourth quarter, the weakest since the depths of the global crisis, a Reuters poll showed, which would keep pressure on policymakers to head off a sharper slowdown this year.
The expected slowdown in growth of the world's second-largest economy, from 7.3 percent in the June-September quarter, means full-year would undershoot the government's 7.5 percent target and mark the weakest expansion in 24 years.
Growth of 7.2 pct in October-December would be the weakest since Q1 2009, when the economy grew 6.6 percent as the worst of the global crisis passed.
Fourth-quarter GDP data will be announced on Jan 20.
The poll of 31 economists showed bank lending, fixed-asset investment and factory output growth may have steadied in December, but factory price deflation likely worsened and consumer price inflation hovered near five-year lows.
"We expect the upcoming December data to show a still frail economy, tepid production momentum, and mounting deflationary pressures," economists at UBS wrote in a note.
Banks may have extended nearly 853 billion yuan ($137.3 billion) in new loans in December, flat from November's level, which showed a 56 percent jump from the previous month.
The People's Bank of China (PBOC) unexpectedly cut interest rates in November for the first time in more than two years to lower borrowing costs to support growth. Later, it loosened loan restrictions to encourage banks to step up lending.
In the poll, M2 money supply is seen growing 12.5 percent in December from a year earlier, up from November's 12.3 percent rise.
Fixed-asset investment, a key growth driver, probably grew 15.8 percent in the whole of 2014, matching the pace in the first 11 months as the government approves more investment projects to offset the impact from a cooling property market.
The National Development and Reform Commission, the nation's top planning agency, approved infrastructure projects with total investment value of 1.77 trillion yuan in 2014, with the bulk in the fourth quarter, according to Reuters calculations based on NDRC announcements.