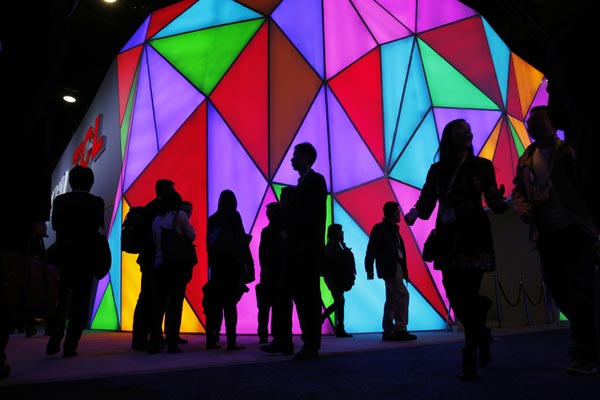 The TCL Corp booth at the International Consumer Electronics Show in Las Vegas on Jan 6, 2014. The company offers product lines including smartphones, tablets, wearable devices and mobile routers. [Photo/Agencies]
Once a smart device leader, iconic brand given second chance of life with investment from TCL
Is Alcatel still making smartphones? Yes it is, and so soon will Palm, the long-forgotten smartphone and personal digital assistant maker, thanks to Chinese vendor TCL Communication Technology Holdings Ltd.
After keeping the Alcatel brand for almost a decade in mute mode, the Shenzhen, Guangdong-based growing force in the mobile sector, which is now operating globally under the Alcatel Onetouch and TCL brands, announced on Wednesday that after buying the rights to the Palm name from Hewlett-Packard Co for an undisclosed amount, it will recreate a new company based in California's Silicon Valley to relaunch the iconic handsets.
George Guo, TCL Communication's chief executive, said the company will revitalize Palm by launching a new device this year aimed at opening up the premium handset market, a segment currently dominated by Apple Inc and Samsung Electronics Co.
"The purchase will help TCL diversify and expand its business into other areas, such as high-end smartphones," he said.
Palm's development and manufacturing team will remain headquartered in the Valley to "leverage the talent and partnership opportunities in the area", read a statement from the company.
TCL is not planning to make any major public show of its latest development, not even at the ongoing International Consumer Electronics Show in Las Vegas, choosing instead a low-key private gathering on Tuesday to reveal the development.
Guo said TCL completed the acquisition through one of its subsidiaries, and did not want to elaborate on its significance.
TCL Communication, however, has played a very high-profile industry role over the past year, as one of nine major Chinese vendors that have managed to topple South Korean dominance in the global smartphone market.
Collectively the group of nine, which included Xiaomi Corp, Huawei Technologies Co Ltd and Lenovo Group Ltd, had grabbed a 31.3 percent share of the sector by the second quarter of last year. Samsung and LG Electronics together had 30.1 percent in the same period, said the Federation of Korean Industries, an alliance of South Korean conglomerates.
TCL offers product lines including smartphones, tablets, wearable devices and mobile routers.