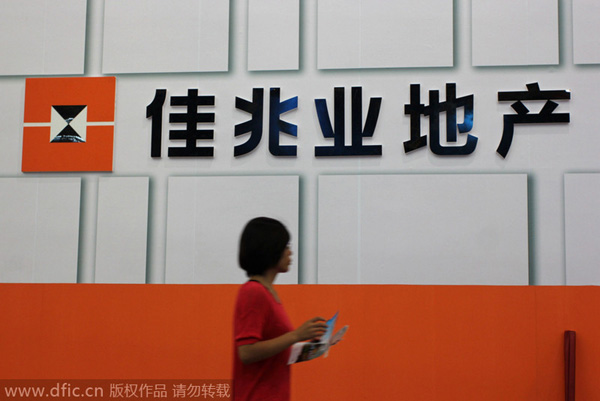 A visitor walks past the stand of real estate developer Kaisa Group during a real estate fair in Wuhan city, central China's Hubei province, Sept 13,  2013. [Photo/IC]
BEIJING - Kaisa Group, once a leading developer in Shenzhen, is now mired in a massive debt default and strenuously fighting doubts about its prospects, causing jitters about the overall health of China's housing sector.
The company's plight is rooted in its failure to repay a loan from HSBC due on Dec 31, 2014 totaling HK$400 million ($51.6 million), triggered by the resignation of it board chairman Guo Yingcheng in early December.
Credit rating giant Moody's downgraded Kaisa's corporate family and senior unsecured debt ratings to Caa3 from B3 Monday, with negative ratings outlook.
"The rating downgrades reflect Kaisa's heightened default risk following the default on its HSBC loan, which in turn will likely trigger a cross-default on its offshore bonds," a Moody's research note read.
Adding to the woes, media reports said late Tuesday a Kaisa board meeting had passed an agreement on going bankruptcy and reorganization.
The allegation was soon denied by Kaisa, saying in a statement that no such meeting was held and neither was there any agreement on reorganization.
The company's liquidity crisis struck market nerves during the past week, as the property sector had just experienced a difficult year amid a slowing Chinese economy.
Property investment and sales were both lackluster last year. Investment in the country's property sector rose 11.9 percent in the first 11 months of 2014, much slower than 19.8 percent reported for 2013, data from the National Bureau of Statistics showed.
Total area of commercial housing sales dropped 8.2 percent during the same period.
However, analysts with Guotai Junan Securities believe the Kaisa case is just an individual one and cannot represent the whole industry's credit situation.
The default was not triggered by the company's business operations, but more likely related to sudden changes in its management structure, the brokerage firm said in a note.