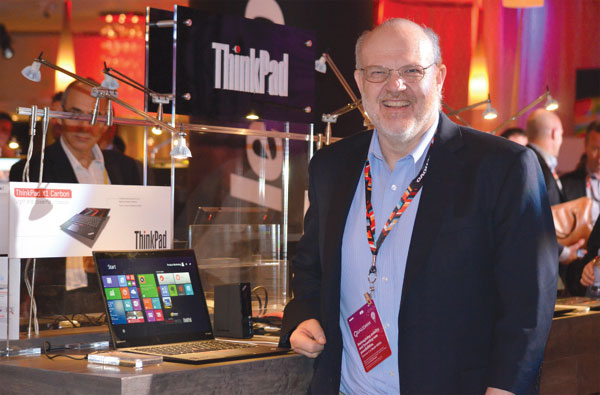 Peter Hortensius, CTO of Lenovo, introduces ThinkPad X1 Carbon, one of the new products released at Consumer Electronic Show (CES), at the Venetian Hotel in Las Vegas on Tuesday. Lian Zi / China Daily
Lenovo sees plenty of room to grow its market share in the United States, the company's chief technology officer told China Daily on Tuesday.
Lenovo CTO Peter Hortensius, who spoke during the Consumer Electronics Show (CES) in Las Vegas, said the tactic is "Global Local", an approach used by Lenovo's product design and marketing group.
"We use global scale and efficiency, but build our products based on the needs of local consumers, he said. "If you look at our products in China, we made products by Chinese for Chinese customers. The strategy is the same in US and other places.
"Our total PC market share in the US is currently under 10 percent, Hortensius said. "Even though it is certainly a large market share for a foreign brand, it is still smaller than our share in Japan and China, which is about 30 percent and 40 percent."
Lenovo is showcasing more than 20 new products at CES, including phones, tablets, laptops,convertiblesand a wristband. Most are being shown outside China for the first time.
The most advanced product is theLaVie Z notebook, which the company is billing as the world's lightest 13-inch laptop, significantly lighter than Apple's 13-inch MacBook Air, said Hortensius, who said the notebook will be in retail outlets in May.
Another technology unveiled by Lenovo this year is "AnyPen". It allows users to use any metallic object, such as a pen or pencil, even the blunt end of a fork, as a stylus on their devices.
"Users will find this technology especially handy because smaller-screen devices require more precise navigation than a finger," said a company representative at Lenovo's booth. "At the same time, Lenovo AnyPen Technology eliminates having to replace lost, designated, touch-screen only styluses and the expense of purchasing one separately."
The new technology has already been applied on the Yoga convertibles and tablets.
Lenovo also released a pocket-size selfie flash, the VIBE Xtension, to give users a quick way to create ideal lighting, and awaterproof fitness wristband with an e-ink display that could receive smartphone notifications and lasts up to seven days. The wearable product will be on sale in the US in April.