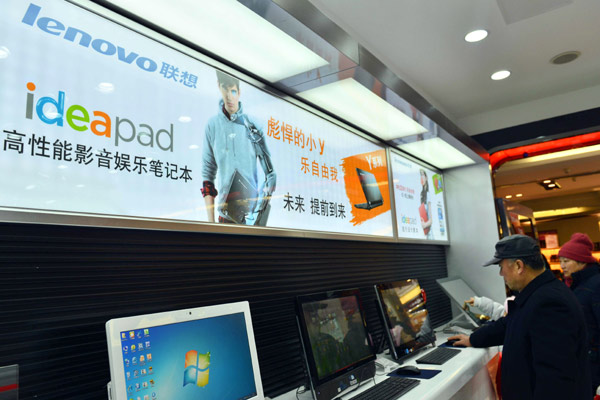 Customers try out Lenovo computers at a company outlet in Hangzhou, Zhejiang province. Lenovo's global revenue was up 7.2 percent to $10.5 billion in the quarter ending September, the smallest increase in at least six quarters. [Photo/Agence France-Press]
Slowing smartphone demand in China is weighing on Lenovo Group Ltd's sales as the company sprints to catch up with Apple Inc and Samsung Electronics Co Ltd in the handset segment.
On Thursday, Lenovo reported third-quarter revenue growth that fell below market expectations, sending down its share prices and clouding expectations for the future profitability of the world's largest personal computer maker.
Global revenue was up 7.2 percent to $10.5 billion, the smallest increase in at least six quarters.
Quarterly setbacks did not hurt Lenovo Chairman and Chief Executive Yang Yuanqing's attempt to build the mobile device segment into a new cash cow to replace the PC business, which provided a decade of profits.
"We will replicate our success in PCs by outgrowing the market to challenge the top two. Mobile and enterprise businesses are now our new growth engines, and over time, like PCs, they will become our profit pool as well," Yang said.
Lenovo hopes that Motorola Mobility will help it unlock developed markets in Western Europe and North America. The company said last month that it completed a $2.91 billion buyout of Motorola Mobility from Google Inc. According to research firm IDC, the acquisition helped Lenovo to become the world's third-largest smartphone vendor with an 8.7 percent market share, after Apple and South Korea's Samsung.
Challenges still loom for Lenovo in the coming quarters.
Chris Jones, vice-president of international research company Canalys, said: "The global market is becoming more competitive, with vendors beyond Samsung and Apple enjoying growing success."
It comes down to the strong value proposition and increasing quality of products offered across all price points by competing vendors such as Lenovo, Jones said.
The rise of Xiaomi Corp, among other China-based smartphone producers, is also an issue for Lenovo.
Lenovo must continuously roll out products that appeal strongly to Chinese buyers in function and price to maintain its market share in the country.
As of September, six of the top 10 global vendors were Chinese brands, according to Canalys.
Xiaomi is running neck-and-neck with Lenovo for second place in China's smartphone market. But both companies are eyeing the top slot now occupied by Samsung, which has been losing ground to local challengers in recent months.
Xiaomi, based in Beijing, may hold an initial public offering as soon as next year, the South China Morning Post reported. Industry insiders speculate Xiaomi's valuation could be as high as $50 billion.
China, which can accommodate both high- and low-end products, will remain the top smartphone market for global handset makers for a long time.
Data from Canalys show the Chinese mainland accounted for more than one-third of the total smartphone shipments in the third quarter, with the US far behind at 13 percent. India, the third-largest market, took 6 percent of global smartphone shipments.
The global market is the next challenge for Chinese producers to conquer.
"Lenovo has gained brand awareness, carrier relationships and crucial patent cover to enable global expansion," said Jones. "Assuming it can consolidate and grow from its current position, Lenovo, with Motorola, is well-placed to mount a real challenge to Apple as the worldwide No 2 vendor in 2015."