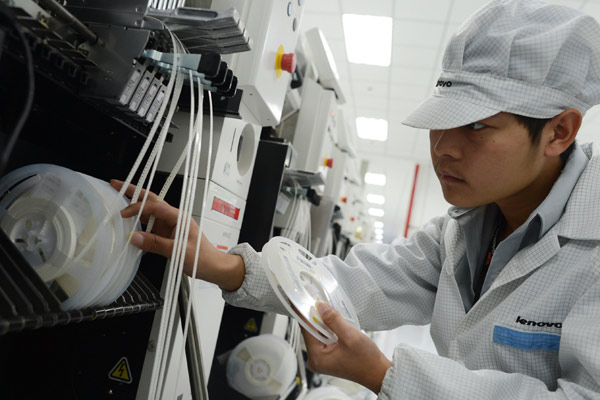 A worker is testing the chips at a workplace of Lenovo Group in Wuhan, capital of Hubei province. The company recently closed two multi-billion-dollar buyouts of IBM Corp's x86 server unit and Motorola Mobility. [Zhao Chao / China Daily]
Chinese company to focus on brand enhancement moves, says chief executive officer
Lenovo Group can become a global information technology giant if it uses its global resources in an optimal manner, Yang Yuanqing, chairman and chief executive of the world's largest personal computer maker, said on Wednesday.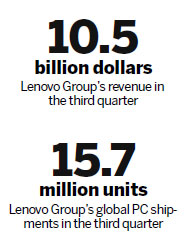 Judicious use of research and development expertise in developed economies and the adequate labor resources in emerging markets have fueled Lenovo's rapid growth during the past decade, Yang said.
"Now that we have a solid manufacturing platform, Lenovo should move on to its next goal of building a brand name that adequately showcases its hardware capabilities."
Lenovo took the first steps for the global transformation in 2005 when the Beijing-based company acquired IBM Corp's PC unit for $1.75 billion. Since then, it has not only managed to make the business profitable, but also became the industry leader two years ago.
The company recently closed two multi-billion-dollar buyouts of IBM Corp's x86 server unit and Motorola Mobility, a United States-based maker of smartphones.
Yang said better use of the global value chain will become increasingly important for Lenovo as it seeks more top positions in the global mobile devices market.
The company owns manufacturing plants in a number of Asia-Pacific economies including China, India, Mexico, Brazil and the United States. Its major research and development facilities are in Beijing and Raleigh, North Carolina in the US.
"Unlike other electronic vendors, we prefer to control the manufacturing process at our end itself," said Yang. "It helps in better control of production costs and also provides a well-rounded development platform for the research team."
Personal computers are still the biggest business for the Chinese company.
According to research firm IDC, Lenovo shipped 15.7 million units of PCs worldwide in the third quarter, significantly outperforming US-based Hewlett-Packard Co and Dell Inc. The Chinese company now accounts for about one-fifth of the global PC shipments.
For the quarter ended September, the company posted revenue of about $10.5 billion, a 7 percent growth over the corresponding period in 2013.
Roughly 60 percent of the company's businesses are located outside China.
Lenovo, along with Huawei Technologies Co Ltd and ZTE Corp, were among the first Chinese technology companies to tap the overseas markets. The "three musketeers" of Chinese IT going out are trying to take a bigger share in global smartphone market after penetration rate in China slowed last year.
Wang Jianlin, chairman of the Dalian Wanda Group, said global resource allocation has become a basic strategy for Chinese enterprises who are seeking a global presence.
"With growing investment in overseas markets, China will be home to the most multinationals in the next decade," Wang said, adding local technology and business innovation will fuel Chinese economy in the long run.
Earlier this month, Lenovo hired Jerry Yang, founder and former CEO of Yahoo Inc, to become the company's independent non-executive director. The company hopes the US Internet magnet's global vision will help Lenovo "stimulate innovation" on its way to challenge Apple Inc and Samsung Electronics Co Ltd.
"His experience as an entrepreneur, unique global perspective, and pioneering spirit as one of the great innovators of the Internet era are all qualities that we value," said the CEO.