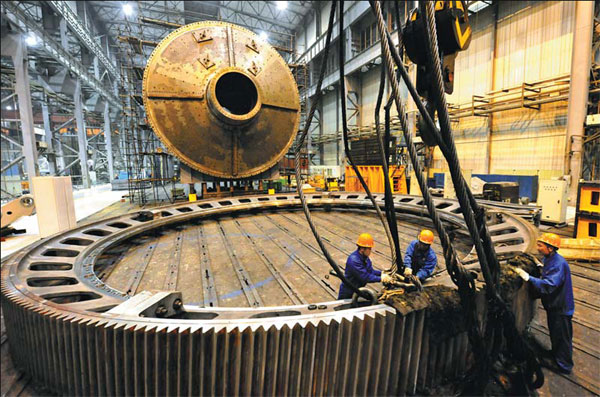 Workers assemble molybdenum refining equipment at a Citic Heavy Industries Co Ltd plant in Luoyang, Henan province. [Photo Provided to For China Daily]
BEIJING - Despite lower growth that has been labeled by Chinese authorities as the "new normal", China remains a top contributor to the global economy. The following is a summary of the country's major endeavors to boost regional and world economy.
Growth engine
Although China's GDP growth for the past year is likely to slow to around 7.5 percent, its contribution to global and Asian economic growth still accounts for 27.8 percent and 50 percent respectively, according to estimates of the International Monetary Fund.
"China's economic growth has become more stable and been driven by more diverse forces," Chinese President Xi Jinping told an Asia-Pacific Economic Cooperation (APEC) CEO summit in November.
Even a growth rate of around 7 percent would place the Chinese economy among the top in the world in both speed and increment, Xi said, adding that all major economic indicators of the country are "within the reasonable range."
In face of potential economic risks, China has been advancing a new type of industrialization, IT application, urbanization and agricultural modernization in a coordinated way.
At a Group of 20 summit in Australia, Xi said China's economic growth serves as a main engine for global economic growth.
Noting the various domestic reforms, Xi said that the Chinese economy will maintain its momentum for powerful, sustainable and balanced growth, and provide the world with greater demand and more opportunities.
Free trade area strategy
In November, China signed a declaration of intent on practically concluding bilateral negotiations on a free trade agreement with Australia, shortly after concluding substantive FTA talks with South Korea.
On Nov 11, APEC members vowed to kick off and advance the process of the Free Trade Area of the Asia-Pacific, an initiative strongly supported by China and will add $2.4 trillion of output to the global economy.
On Dec 5, Xi called for accelerated fulfillment of the free trade area strategy and the building of a new economic system of openness.
The FTA strategy is an important part of China's new round of opening-up, Xi told a meeting of the Political Bureau of the Communist Party of China Central Committee.
Multilateral trade systems and regional trade arrangements have always been the driving force behind economic globalization, Xi added.
Silk road fund
China has been vigorously promoting regional and international connectivity with a series of proposals including the "Silk Road Economic Belt" and the "21st Century Maritime Silk Road" initiatives. These multilateral economic cooperation blueprints are aimed at further facilitating trade and investment in the region and contributing to a more open global economy.
On Nov 8, China announced a contribution of $40 billion to a Silk Road Fund.
Xi said the new Silk Road Fund will be used to provide investment and financing support for infrastructure, resources, industrial cooperation, financial cooperation and other projects related to connectivity for countries along the "Belt and Road."