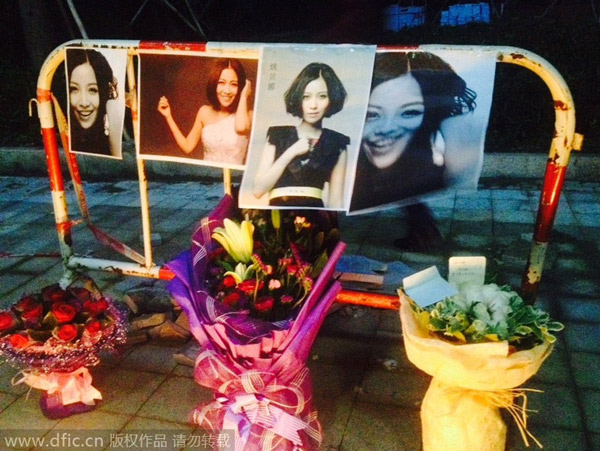 Yao's fans place flowers in front of a hospital in Beijing in memory of the late singer, hours after she died from breast cancer, Jan 16, 2014. [Photo/IC]
A Chinese newspaper was accused of taking photos of a popular singer, after she died from breast cancer at a hospital in Shenzhen on Friday afternoon.
Three reporters with the newspaper, identified as Shenzhen Evening News, allegedly slipped into the mortuary disguised as medical workers. They took photos of the dead singer, Yao Beina, without the permission of Yao's family, according to the singer's agent.
The reporters were caught in the act, and the photos were asked to be deleted by Yao's family.
The incident was first reported early Saturday by a microblogger, @娱乐圈揭秘 (entertainment Whistleblower), on Sina Weibo – a Twitter-like microblogging site. By noon, the news has been forwarded more than 10,000 times, with thousands of comments criticizing the newspaper's unethical practices.
Microblogger "candy" said humanity should have a priority over being "first" to a story.
Famous Chinese actors and singers also joined in demands for an apology from Shenzhen Evening News.

Sun Li, who was nominated for a 2013 Emmy in the Best Actress category for her role in the television drama, "The Back Palace: Legend of Zhen Huan," posted a microblog on Weibo, saying it is "important to put humanity first no matter what occupation you are doing".
This is not the first time the public had to reflect on the way journalists to cover stories.

In 2008, some reporters were criticized for hampering disaster relief by interviewing frail survivors and victims' relatives during the massive 8.0 magnitude earthquake in Wenchuan, Southwest China's Sichuan province.
Yao Beina, who sang the theme song for the Chinese version of the TV drama "The Back Palace: Legend of Zhen Huan," became famous in China after she showed up as a contestant in the reality talent show "The Voice of China" in 2013.
She had her left breast removed in 2011 after being diagnosed with breast cancer. After years of battling with the deadly disease, she died at the age of 33.
Yao earned praise among her fans as she decided to donate her corneas before her death.

One of her corneas will be transplanted to a 23-year-old man from Liangshan Yi autonomous prefecture, Southwest China's Sichuan province. Her other cornea will be delivered to the southern metropolis of Shenzhen, in accordance with Yao's last will.
Her death has brought breast cancer awareness to the spotlight again, following American actress Angelina Jolie's decision to undergo a mastectomy.