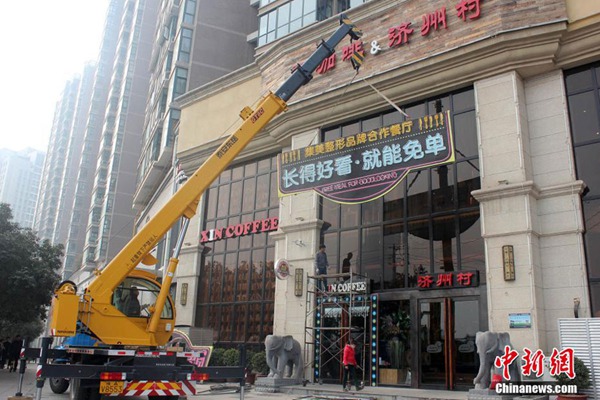 A crane removes an illegal billboard that had been advertising free meals at a local restaurant on Jan 13, 2015. [Photo/Chinanews.com]
A billboard of a restaurant advertising free meals for good looks was removed yesterday in Zhengzhou, Central China's Henan province.
The restaurant launched a new promotion on Jan 10 where customers can earn free meals based on their looks.
Groups of hungry patrons are analyzed by a machine, and staff from a plastic surgery clinic will judge the results. The five customers with the top scores get to eat for free.
However, the 30-square-meter billboard advertising the promotion was put up without government approval and was in violation of local regulations, so the sign was removed yesterday.
Undaunted by this, one manager at the restaurant says the promotion will continue.