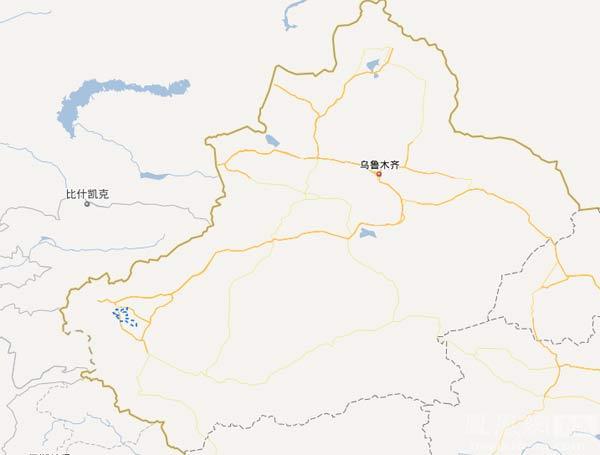 Shule county is marked by a blue dotted line in western Xinjiang Uygur autonomous region.[Photo/military.china.com]
Police shot and killed six suspected terrorists, including one who threatened them with an ax while trying unsuccessfully to detonate bombs in a commercial area of Shule county in the southern part of the Xinjiang Uygur autonomous region at about 10 am on Monday.
No civilians or police officers were injured in the incident.
The police prevented the bombings after responding to reports from residents about suspicious individuals. It was not clear how many bombs were involved, or whether the attackers were male or female.
Residents reported that one of the suspects carried the explosives to the commercial area, the statement said.
Shule, in southwest Xinjiang, is about 7 kilometers from Kashgar, capital of the Kashgar prefecture, which saw a bloody attack in its Shache county on July 28, when a gang armed with knives and axes attacked a township's police station and government offices. Officers shot 59 attackers and arrested 215 other people.
On Nov 28, the officers responded to another case in the same county. A group of knife-wielding terrorists set off explosives on a main street, killing four and injuring 14. Eleven terrorists in that incident were shot dead by police.
Hit by frequent terrorist attacks in the past year, the regional authorities are carrying out a campaign to eliminate religious extremism, which is regarded as the source of the violence.
A regulation banning full-face veils, called niqab, and full-body coverings in public in Urumqi was approved by the legislature on Saturday. Xinjiang officials said such clothing is associated with religious extremism.
Outward appearances, such as the niqab and distinctive male beards, are not small matters, said Nurmemet Turson, deputy director of the religious research institute of the Xinjiang Academy of Social Sciences, "They are favored by ultraconservative Muslims and can be symbols of religious extremism."
Several prefectures, including Aksu, Turpan and Ili, have made efforts to mitigate the influence of religious extremism by introducing various constructive activities for the public.
Wang Yiwen, Party chief of the county, said: "If the farmers, especially the youth, are interested in sports, cultural activities and even the films we play every week in the village, they might stay away from the extremism."