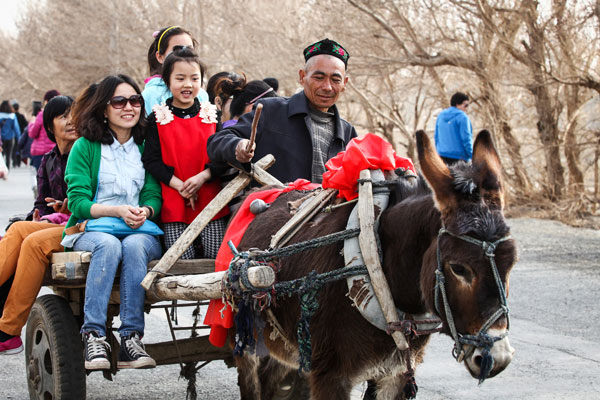 Tourists on a donkey cart in Turpan in March. This popular tourist location in the Xinjiang Uygur autonomous region will benefit from China-led new development initiatives designed to inject new impetus in key regions in western China. LIU JIAN/CHINA DAILY
China's northwest regions are planning to invest more in infrastructure, tourism and tourism-related industries to attract more visitors to the ancient Silk Road that linked China with central Asian nations.
Shaanxi province, whose capital, Xi'an, was the starting point of the ancient Silk Road, has launched a tourism investment fund of 5 billion yuan ($804 million).
"Thanks to the rising influence of China's western tourism, the tourism industry of Shaanxi province has enjoyed a fast and steady growth in recent years," said Bai Aying, vice-governor of Shaanxi province. "Now Shaanxi province has invested a lot to operate major tourism projects with the theme of Silk Road culture."
Gansu province, with more than 1,600 kilometers of the Silk Road, is rapidly improving its transportation network as well. According to the provincial tourism authority, in the next five years, Gansu will connect major national scenic spots with nearby cities, counties and major transport roads.
Gansu will also work to attract more overseas visitors by facilitating more international airlines and gradually opening international ports of entry at the Dunhuang and Jiayuguan airports.
In September 2013, President Xi Jinping proposed an economic belt that would revive the ancient Silk Road. The trans-Eurasian project is proposed to extend from the Pacific Ocean to the Baltic Sea.
This year has been set as the Silk Road Tourism Year by the China National Tourism Administration. It is expected to facilitate regional cooperation, deepen mutual understanding and establish mutually beneficial ties for all nations involved
Li Shihong, head of the administration's marketing and international cooperation department, said CNTA will introduce a three-year plan to coordinate the Silk Road tourism development around the country. It also will help to leverage the economy in less-developed regions.
Industry insiders said they believe this is a new opportunity for China to reintroduce its western regions and upgrade tourism facilities and services.
"The Silk Road is one of the early tourism brands that China introduced to the world. It has cultural meanings and global reputation," said Dou Qun, a tourism industry professor at Beijing Union University. "And China has developed tourism products along the Silk Road for more than 30 years that all provide a solid foundation for another round of development this year."
"Besides marketing, tourism authorities should also work closely with other departments including culture, transportation and public facilities to expand the current tourism products and improve the tourism experience," Dou said.
The professor also suggested that related provinces and regions should focus on cooperation instead of competition.
"Now many cities all have their own developing plans and want to compete with other cities and provinces in the marketing fight by emphasizing their importance on the Silk Road," said Dou.