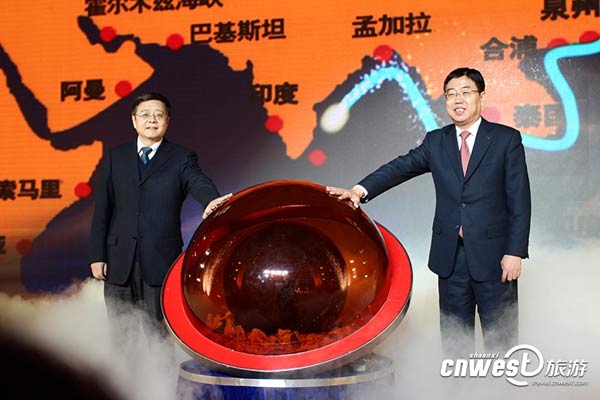 Du Jiang, right, vice head of China National Tourism Administration, and Bai Aying, vice governor of Shaanxi province, kick off the Silk Road Tourism Year in Xi'an, capital of northwest China's Shaanxi Province, Jan 8, 2015. [Photo/travel.cnwest.com]
XI'AN -- China on Thursday kicked off the Silk Road tourism year in Xi'an, capital of Northwest China's Shaanxi province, to attract more visitors on the ancient Silk Road which linked China with central Asian nations.
Every year China National Tourism Administration (CNTA) sets a theme for tourism promotion. Inspired by the Silk Road, China will promote western provinces for their rich culture and tourist appeal.
The Silk Road tourism year will facilitate regional cooperation, deepen mutual understanding and establish mutually beneficiary ties for all related nations, said Du Jiang, deputy director of the CNTA.
Shaanxi Province is investing more in tourism and cementing its position as the starting point of the Silk Road, said Bai Aying, deputy governor of Shaanxi Province.