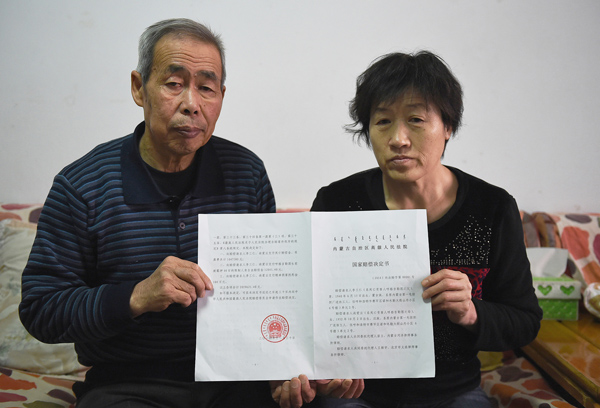 A verdict granting State compensation of more than 2 million yuan ($322,000) is displayed on Dec 31 by the parents of Hugjiltu, an 18-year-old wrongly executed for rape and murder, in Hohhot, the capital of the Inner Mongolia autonomous region.[Photo/Xinhua]
Chinese courts corrected the highest number of wrongful charges and verdicts last year following flawed criminal trials.
Protection of citizens' rights also progressed, with compensation awarded to people for losses stemming from ill-advised government actions.
In correcting flawed trials and charges, not guilty decisions were pronounced in 12 cases, in which victims and their relatives had fought for years to overturn initial rulings with repeated appeals.
Of these cases, nine went to retrials, and prosecutors withdrew charges in the remaining three.
Progress was made, with it taking a decade on average for each of the 12 cases to receive a final judicial ruling.
In the case of Hugjiltu, a resident from Inner Mongolia autonomous region who was wrongly charged with rape and murder and sentenced to death in 1996, it took 18 years for a court to declare him innocent and for his parents to receive State compensation.
Another suspect in the case is now on trial.
In 2013, the country awarded 87.35 million yuan (about $14 million) in compensation relating to 2,045 cases, according to recently released data. In 2012, State compensation of about 50 million yuan was paid relating to 2,035 cases.
"Flawed criminal charges became a problem in China largely because of the public security authorities' pursuit of a higher clear-up rate for murder cases," said Chen Yongsheng, a law professor at Peking University.