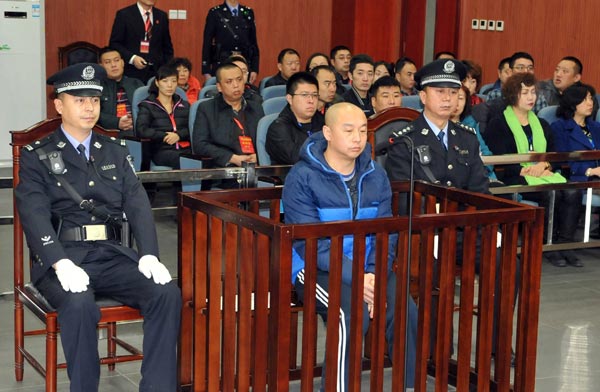 Zhao Zhihong (center) stands trial at Hohhot Intermediate People's Court in North China's Inner Mongolia autonomous region Monday. [Photo provided to China Daily]
A man who confessed to murdering a woman 18 years ago went on trial on Monday, three weeks after a court cleared a teenager who was wrongfully executed for the crime.
The case was reopened more than eight years after his first trial.
Zhao Zhihong, 42, is accused of murder, rape, robbery and larceny, according to Hohhot Intermediate People's Court.
Zhao, who is from the Inner Mongolia autonomous region, confessed to some 20 rape and murder cases from April 1996 to July 2005, including that for which the teenager, Hugjiltu, was executed.
Zhao was apprehended in 2005 and his confessions included this 1996 murder, but it was not among nine offenses for which he was tried the following year.
A verdict has not been issued in the case and Zhao has been detained ever since.
Hugjiltu was convicted of raping and fatally choking a woman in a toilet at a textile factory in Hohhot, the Inner Mongolian capital, on April 9, 1996. Sixty-one days later, he was given the death penalty and executed at age 18.
On Dec 15, Inner Mongolia High People's Court overturned Hugjiltu's conviction and pronounced him innocent due to insufficient evidence and unclear facts. His parents have been awarded 2.05 million yuan ($335,200) in compensation.
Monday morning's session at Hohhot Intermediate People's Court focused on the robbery and larceny charges that Zhao faces.
It was open to the public and attended by Hugjiltu's parents, but not by Zhao's family members.
Prosecutors say Zhao robbed a man surnamed Chi at a residential area in Hohhot on May 19, 1996. Zhao is also accused of stealing cash and property, including a gold ring, between 1998 and 2000. The items are valued at more than 3,000 yuan ($490).
Zhao confessed to most of the robbery and theft allegations, but denied stealing the ring. His lawyers, Xie Fei and Zhang Ruijun, argued that the evidence was inadequate.
The trial continued on Monday afternoon, but was not open to the public for privacy reasons as the proceedings focused on the rape and murder allegations.
The court told China Daily the hearing will continue on Tuesday, as the charges Zhao faces are complicated.
Zhao's lawyers said after Monday's hearing that their client insists that he committed the murder for which Hugjiltu was executed, but they declined to give more details.
Separately on Monday, Wu Qinyuan, who allegedly raped and killed a woman 17 years ago, stood trial at Wuhu Intermediate People's Court in Anhui province. He was arrested on Nov 27, 2013.
Wu confessed to raping and killing the woman at a building in Bengbu, a city in Anhui, on Dec 2, 1996. Police found that biological samples taken from Wu were a more than 99 percent match to those found at the crime scene.
However, at the time, Yu Yingsheng, the victim's husband, was detained and sentenced at Bengbu Intermediate People's Court to life imprisonment for the homicide.
The provincial high people's court reinvestigated Yu's case in May 2013 and Yu was pronounced innocent three months later.
Contact the writer at caoyin@chinadaily.com.cn
Xinhua contributed to this story.