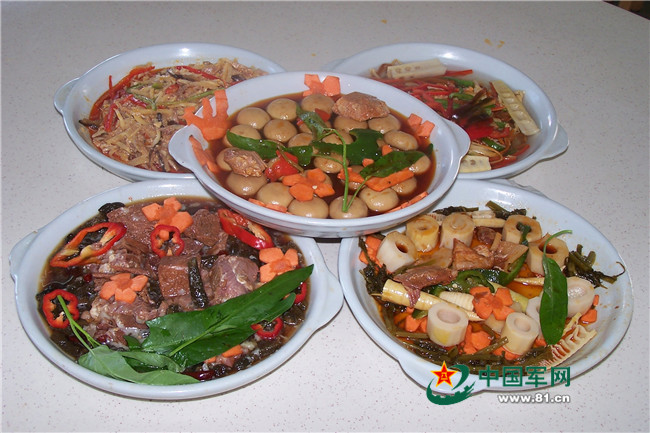 During New Year's Day, what do soldiers guarding Nansha islands have for their feast? [Photo/81.cn]
At about 5:00 pm, five cuisines have been prepared on the tables in the cafeteria. The menu reads: twice-cooked pork fried with bamboo shoot, diced chicken with green pepper, steamed pork ribs in sticky rice, steamed pumpkins and mixed onion with dried beancurd sticks. In addition, soup and apples are provided.
For urban citizens, this is anything but a feast. However, on insular and distant Nansha islands, this is a well-prepared dinner of luxury.
Hu Fei, mess officer of Fiery Cross Reef, said:" necessity supply for Nansha islands is relatively sufficient currently. Food ingredients are adequate. Change has been particularly palpable since the shortening of supply period from three months to one. During festivals, officers will try their best to prepare some authentic Chinese cuisines for soldiers."