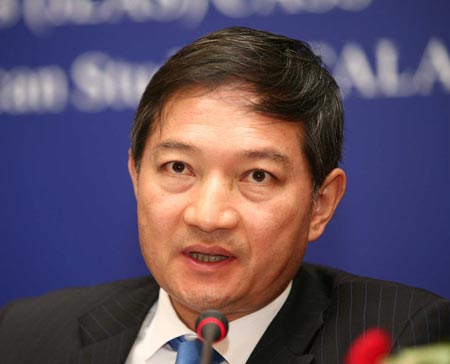 Zhang Kunsheng
High-ranking diplomat Zhang Kunsheng has been placed under investigation on suspicion of "breaching discipline", a term usually used in reference to corruption, the Foreign Ministry confirmed on Friday.
Zhang, a senior official who served in the ministry for nearly 30 years and was in charge of Latin America and the Caribbean region affairs and protocol affairs, has been sacked as assistant foreign minister.
On Thursday, questions about Zhang surfaced in the media when it was discovered that his name had been removed from the list of "principal officials" on the ministry's website.
In a written reply to the media on Friday, an unnamed ministry spokesperson addressed why Zhang's name had been removed and confirmed the investigation.
Zhang, born in Shanxi province in 1958, began his diplomatic career in 1985 and in 1995 received a PhD in International Politics from Peking University. He focused on North American affairs from 1995 to 2003.
About two months ago, the disciplinary watchdog of the Foreign Ministry started inspections abroad, a move in keeping with Beijing's firm resolve to crack down on graft.
Though this may be unrelated, the inspection group looked at diplomatic posts in North America from Oct 28 to Nov 4, including the Chinese embassy in Washington, the Permanent Mission to the United Nations in New York, and the Consulate-General in Toronto, Canada.
"Zhang is the highest-ranking diplomat to be hit" in China's latest graft probes, The Associated Press commented on Friday.
Concurrent with his post as assistant minister, Zhang was director-general of the ministry's Protocol Department, which is responsible for State protocol matters and ceremonial events on diplomatic occasions.
Several new appointments became known on Thursday.
Qin Gang, previously director-general of the Foreign Ministry's Information Department, has assumed office as chief of the Protocol Department, according to the ministry's website.
Qin is well known as a ministry spokesman.
Assistant Foreign Minister Liu Jianchao has become the new director-general of the Information Department.
Liu, also a former ministry spokesman, led the Information Department before being named Chinese ambassador to the Philippines in 2009.