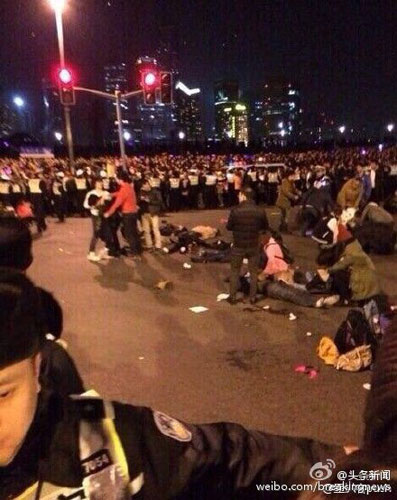 The Sina Weibo photo shows a stampede scene in the Bund as people celebrate New Year in Shanghai, Jan 1, 2015. [Photo/Sina Weibo]
The death toll of a fatal stampede during New Year celebrations late Wednesday in Shanghai rose to 36 as of Thursday afternoon, local authorities said.
Seven injured have checked out of the hospital. Among the 40 injured being treated in local hospitals, 13 are suffering from serious injuries, the municipal government said.
The tragedy happened at a crowded square in Shanghai's gleaming Bund area at around 11:35 pm. There were 25 women among the deceased whose ages ranged from 16 to 36, said the authorities in Shanghai, a metropolis that is home to over 23 million people.
"The steps leading to the platform were full of people. Some wanted to get down and some wanted to go up," said a witness who gave her surname as Yin. "We were caught in the middle and saw some girls falling while screaming. Then people started to fall down, row by row."
"The crowd was in a panic. We stood in the crowd, feeling squeezed and almost out of breath," another witness, surnamed Yu, said. "Some yelled for help, but the noise was too loud."
Other witnesses said police rushed to the scene and tried to pull out people who were stuck, but without much success.
According to the Taiwan affairs office of Shanghai, one Taiwanese died in the stampede, and another was injured and is receiving hospital treatment.
Some survivors said the stampede was triggered when people started to throw coupons resembling US banknotes to revelers outside a bar.
They said coupons with "M18" - the same name as a bar on the Bund - printed in the middle were thrown from a building's third-floor window near the Bund.
The bar could not be reached and what caused the stampede is still being investigated.
A press release was organized by the Huangpu branch of the Shanghai Police Bureau on Thursday afternoon. The police expressed regret over their failure to effectively intervene when the tourist flow "increased irregularly" at 11:30 pm.
Around 500 police were mobilized after a surveillance camera showed that a passageway near Chen Yi Square became congested with people, said Cai Lixin, Deputy commander of the branch.
Given the overwhelmingly large crowd, the police cut through forcibly to enter the heart of the crowd, he said.
A dozen police officers helped evacuate the injured from the crowd after the stampede and cleared a passage for ambulances to get through, said Wang Qiang, another policeman.