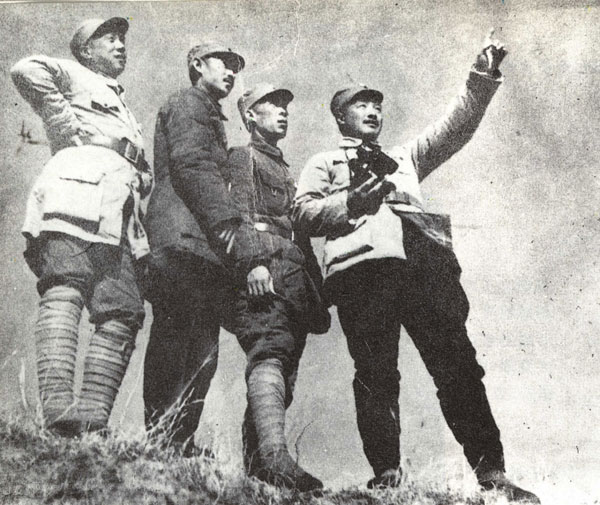 Military commanders observe terrain on the front in the northwestern part of Shanxi province in Oct. 1937. The photo was provided by State Archives Administration of China.[Photo/Xinhua]
BEIJING - The fourth episode of an ongoing documentary series on the Anti-Japanese War has told the story of the Battle of Yanmenguan, in which Chinese troops successfully cut off a key Japanese supply line.
Starting on Monday, the series is being released on the website of China's State Archives Administration, which is currently on a promotional drive to raise awareness of the war.
After the successful defence of Pingxingguan, a narrow pass in north China's Shanxi Province, in September 1937, the Communist troops resorted to an ambush plan at nearby Yanmenguan, or Yanmen Pass.
On Oct. 18 1937, Chinese soldiers were dispatched to hide beside a road south of the pass and launch a surprise attack on the Japanese army's supply carriers.
The battle dragged onto Oct. 21 as enemy reinforcements arrived and joined the fight.
According to the episode synopsis, Chinese troops killed and wounded more than 500 enemy soldiers and destroyed scores of their vehicles. The Japanese supply line was cut off.
The video series is part of China's activities to mark Sept. 3, the "Victory Day" when the Japanese government officially surrendered in 1945.