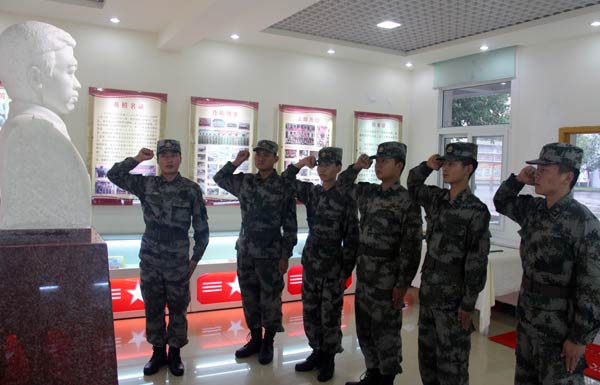 Soldiers from the Sichuan transport regiment take an oath in front of a sculpture of Zhang Hong, a soldier who died on duty, to remember his sacrifice, Oct 11. Zhang died in a road accident while taking on a task of transporting supplies to Tibet on Sichuan-Highwayin March 1990. [Photo by Ma Danning/chinadaily.com.cn]
"Building the Sichuan-Tibet Highway in the 1950s claimed lives of 227 soldiers of our own regiment, and more than 600 soldiers were killed and more than 1,800 were injured or handicapped while maintaining the road or undertaking transportation and emergency rescue efforts between 1955 to 2005," said Guo Hong, a publicity official at a Sichuan-based transport regiment, in a solemn tone, with regret and sadness clearly visible on his face.
"But this has kept reminding us of how the regiment's predecessors committed themselves to building and maintaining the road, to transport services and disaster relief operations. Their contributions give us a sense of pride, and inspire us to carry on their spirit," added Guo.
Undertaking the task of transporting personal supplies and military hardware to soldiers in Tibet autonomous region, along with carrying out disaster relief operations, a transport regiment based in Ya'an city of Southwest China's Sichuan province has made hundreds of trips to Tibet through Sichuan-Tibet Highway, which has been dubbed the "most hazardous Chinese highway", and has taken park in rescue efforts after two deadly earthquakes that measured more than 7.0-magnitude on the Richter scale.
"Our relationship with Sichuan-Tibet Highway started from the very beginning of its birth," said Guo.
The regiment was established in January 1950, and it soldiers have been participating in building the north line of the Sichuan-Tibet Highway since its construction began in April 1950, until the whole north line from Chengdu to Lahsa of Tibet was completed and officially opened to traffic in December 1954.
"Our predecessors broke the frozen ground, and braced against extreme weathers, including rainstorms and mudslides, to build the road that stretches across steep mountains at an average altitude of 3,500 meters, a route that we have been relying on to reach Tibet," Guo told reporters.
The regiment was also the first Chinese transport regiment to undertake missions to Tibet, a neighboring region to the west of Sichuan, in October 1953.
At that time, the only section on Sichuan-Tibet Highway that was completed was from Chengdu to Changdu , a city in the eastern rim of Tibet, still more than 600 kilometers away from the highway's current terminus at Lahsa city.
Until now, the regiment has transported more than five million tons of material to the Tibetan military region via the Sichuan-Tibet Highway.
In addition to these services, the regiment has also undertaken tasks to open up and repair roads after natural disasters and has carried out relief operations on several occasions, including the 2008 8.0-magnitude earthquake in Wenchuan county of Sichuan province that killed 69,227, and the 7.1-magnitude earthquake in Yushu county of Qinghai province that claimed 2,698 lives.
"Since 2005, due to better road conditions and improved protection equipment, we haven't lost anybody from our regiment," Yuan Liebo, a soldier, told reporters.
The Sichuan-Tibet Highway has two routes. Its south line, stretching for 2,115 kilometers, covers Ya'an, Kangding, Tongolo and Batang of Sichuan province and Mangkang, Zuogong, Nyingchi, Gongbo'gyamda, Maizhokunggar and Dazi of Tibet autonomous region to Lhasa.
While its north line, running for 2,414 kilometers, overlaps with South Line at the section from Chengdu to Tongolo, goes north after separating from South Line at Tongolo, overlaps with it again at Bangda after Qianning, Ganzi, Dege, Jiangda in Tibet autonomous region, Qamdo, and finally leads to Lhasa.
Construction of the highway started in April 1950 and was the first highway to link Chengdu, Sichuan province with Lhasa, Tibet autonomous region.