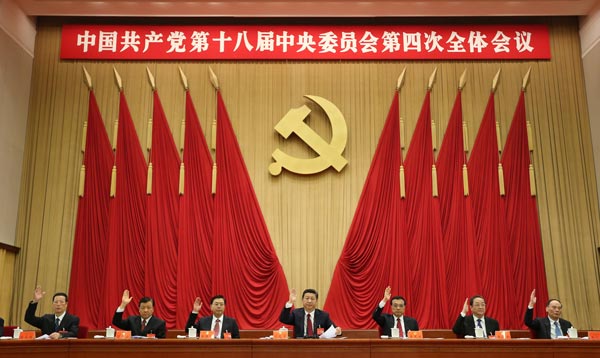 Top leaders including Party chief Xi Jinping attend the Fourth Plenary Session of the 18th Central Committee of the Communist Party of China in Beijing.LAN HONGGUANG / XINHUA
Related: Judicial system should enforce the Constitution
Party expels senior military officer for breach of discipline
Key meeting agrees on penalties for those abusing their power
Government officials will be given demerit penalties and held accountable if they are found to have interfered in lawsuits, under a decision taken at a key meeting to advance the rule of law.

The move is aimed at ensuring that judicial power is exercised independently, according to a statement issued on Thursday after the Fourth Plenary Session of the 18th Central Committee of the Communist Party of China.
The meeting decided that the top court will initiate a pilot project to set up cross-administrative region courts and procuratorates. This is expected to prevent local government officials from interfering in judicial cases.
The statement also said that a mechanism will be established to recruit judges and prosecutors from qualified lawyers and legal experts.
The meeting, held from Monday to Thursday, was presided over by the Political Bureau of the CPC Central Committee, the country's top leadership body. It adopted a decision from the CPC Central Committee on "major issues concerning comprehensively advancing the rule of law".
This is the first time that a plenary session of the CPC Central Committee has taken the rule of law as its central theme. A total of 363 members and alternate members of the committee attended the meeting.
The main aim of the Party's drive to advance the rule of law is to "form a system serving the socialist rule of law with Chinese characteristics" and build a country with socialist rule of law.
"To realize the rule of law, the country should be ruled in linewiththeConstitution," the statement stated.
The National People's Congress, the country's top legislature, should play a better role in supervising the implementation of the Constitution, it said.
Assessment of officials will take the way in which they implement the rule of law into consideration, according to the statement. Ying Songnian, a professor at ChinaUniversity of Political Science and Law, said the plenumhas drawn up a blueprint for the implementation of "governance by law".
Government leaders should set an example in abiding by laws and regulations, but many officials have violated laws through corruption and abuse of power, he said.
Some central government departments have made a good start by streamlining approval procedures and delegating some of their approval powers to lowerlevel authorities, Ying added.
Ma Huaide, vicepresident of China University of Political Science and Law, said that under the current appraisal systemmany government officials make economic growth the top priority and neglect the implementationof the rule of law.
Research carried out by Ma last year found that only 36 of 53 cities sampled, including Beijing and Shanghai, reached the pass mark in an assessment of "governance by law".
None of the city authorities scored higher than 80 out of 100 points.
Lawsuits should be more transparent and the law enforcement process should be supervisedmore effectively, Ma said.