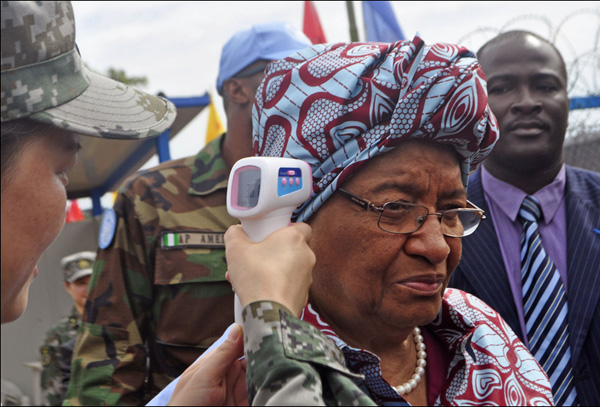 Liberian President Ellen Johnson Sirleaf is taken temperature by a Chinese soldier before the opening of a new Ebola virus clinic sponsored by China, in Monrovia, Liberia, Nov 25, 2014. [Photo/IC]
BEIJING - A team of 558 Chinese soldiers were given the all clear on Sunday after showing no signs of the Ebola virus for over-20 days.
They had been quarantined following an eight-month peacekeeping mission in Liberia.
As the 16th batch of Chinese peacekeepers sent to Liberia, their mission coincided with the unexpected outbreak of the deadly infectious disease. Not only the Liberian government caught with its guard down, but so were the UN peacekeepers.
However, Chinese soldiers managed to avoid infection while helping to construct the first Ebola treatment center in the Liberian capital of Monrovia. According to the soldiers, the treatment center was completed in late November more than 30 days ahead of schedule.
Chinese military forces have played an active role in helping West African countries fight Ebola. The People's Liberation Army (PLA) has sent several rounds of aid as well as doctors, nurses and other medical experts to the region.
The 16th batch consisted of a 240-member transportation battalion, a 275-member engineering battalion and a 43-member medical team. All the soldiers were from the PLA Beijing Military Area Command.