Ban calls for stepped-up efforts in Ebola-hit countries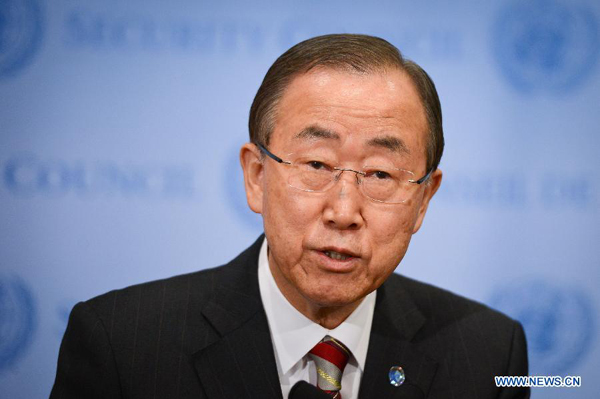 United Nations Secretary-General Ban Ki-moon speaks during a press briefing regarding his recent trip to the Ebola-hit region in West Africa, at the UN headquarters in New York, on Dec 22, 2014. UN Secretary-General Ban Ki-moon on Monday called for ramped-up recovery efforts in West Africa where the most widespread epidemic of killer Ebola disease in history has wreaked havoc. [Photo/Xinhua]
UNITED NATIONS - UN Secretary-General Ban Ki-moon on Monday called for ramped up recovery efforts in West Africa where the most widespread epidemic of killer Ebola disease in history has wreaked havoc.
While speaking to reporters at UN Headquarters here upon his return from a visit to the impacted region that took him to Guinea, Liberia, Mali, Sierra Leone and Ghana, Ban said he saw the progress being made and the slowing of the rate of transmission in many places, stressing that the outbreak is evolving, and so has UN response.
"We must step up recovery efforts now," he noted, adding that he has asked the UN system, led by the UN Development Program ( UNDP), to plan the recovery for the region. "That means restoring essential services, getting children back in school, getting people back to work, rebuilding shattered economies and caring for thousands of orphans."
Ban also pointed out that the "international community needs better early warning and rapid response."
"I intend to engage member states in a serious effort to explore what more we can do to stay ahead of the next outbreak of disease -- a test that is sure to come," he said.
Ban again stressed the need for more resources and help for the countries and people affected by Ebola -- human resources, medical health workers, as well as financial, equipment and logistical support.
According to Ban's spokesperson Stephane Dujarric, the United Nations World Food Program (WFP) and the China Foundation for Poverty Alleviation (CFPA) are launching a public fundraising campaign with Tencent, one of the world's largest internet companies, to raise funds to fight Ebola.
Funds raised from the campaign will go towards WFP's emergency operations to meet basic food and nutrition needs of affected families and communities in the three worst impacted countries by Ebola -- Sierra Leone, Liberia and Guinea.
According to the World Health Organization (WHO), a total of 18,603 confirmed cases of Ebola virus infection have been reported in five affected countries of Guinea, Liberia, Mali, Sierra Leone, and the United States of America and three previously affected countries of Nigeria, Senegal and Spain. There have been 6,915 reported deaths.