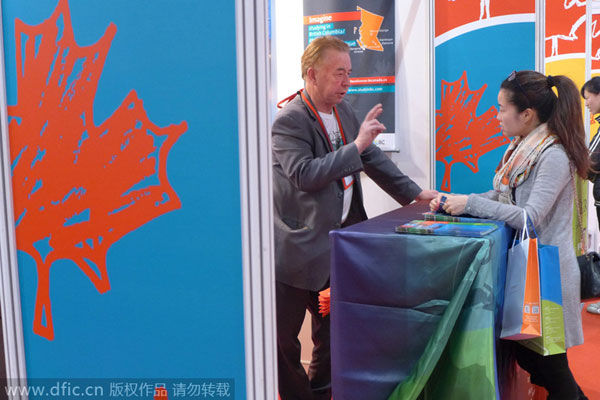 A student concults with a representative in China Education Expo 2014 held in Shanghai Nov 2. [Photo/IC]
Canada is the most popular destination for Chinese students pursuing a high school education overseas, but the United States is catching up, a survey has found.
Between 2007 and 2014, 31.85 percent of Chinese students attending high school abroad went to Canada, according to the Annual Report on the Development of Chinese Students Studying Abroad. The figure for the US is 30.58 percent.
The 2014 report was released on Thursday by the Center for China and Globalization think tank.
Citing statistics from the Education International Cooperation Group, an overseas study consultancy operating in China, the report said four countries-Canada, the US, Australia and the United Kingdom-attracted 90 percent of all Chinese high school students who went overseas in the past seven years.
Miao Lyu, deputy secretary-general of CCG, said Canada's popularity is the result of a visa policy that allows multiple visits during a 10-year period.
"Chinese parents have concerns about young kids studying abroad by themselves, and often ask to move together with their children to take care of them," Miao said. "Canada's 10-year visa enables them to do so easily and conveniently."
Li Peng, deputy general manager of Kentrexs Education Group, which arranges for young Chinese to study overseas, said the US is becoming more popular.
A previous New York Times report said that from 2003 to 2013, the number of Chinese students studying at high schools in the US increased from 433 to 26,919.
"We anticipate that the US will receive more Chinese high school students because of its elite education services and its new visa policy for Chinese students, visitors and businesspeople," Li said.
The survey found that male Chinese high school students prefer to study in the US, while Canada is the top choice for females.
Miao said the difference reflected the different ways the countries are perceived by Chinese parents.
"Canada is more peaceful and safe in the eyes of Chinese people, from its learning environment to the social situation, and parents like their girls to live and study in such environments," she said.
"In contrast, many Chinese people believe the US is a country where you need energy to strive and create, and that is suitable for boys."