US still tops for study abroad: survey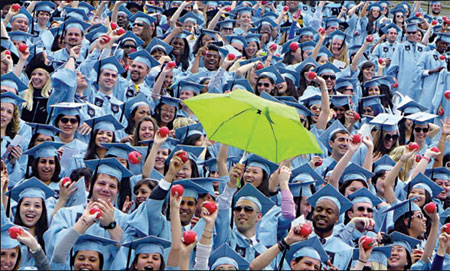 A report on trends in education in the year ahead finds that 26.8 percent of Chinese students who plan to study abroad prefer US schools because of their educational quality. Zhang Yang / for China Daily
The US remains Chinese students' top destination for studying abroad despite a slight sag in popularity, according to a recent survey.
Out of 21,352 interviewees aged 15 to 36, 26.8 percent of those who plan to study abroad prefer the US as the destination country, down about 1.3 percent from last year's survey, according to the annual report on trends in education abroad by China student recruitment agency EIC Group.
"The main reason behind the small decrease may be that the destinations of studying abroad are getting more diverse," said Jin Ran, chief marketing officer of EIC Group, which has put out the education-abroad forecast for the past six years.
"For many European schools, not only do they possess world-class reputation and top-notch education quality, but the public schools also offer free education," Jin said. In addition, certain majors in countries outside the US are "more competitive, such as luxury management in France, hotel management in Switzerland, logistics in Singapore and mechanical engineering in Germany", Jin said.
The report shows increases in the number of students choosing Germany (+3.6 percent) and Canada (+3.1 percent) as their study destinations in 2014, and minor increases in those favoring Singapore (+0.6 percent) and France (0.3 percent).
In spite of the US's popularity dip, Jin emphasized that its leading position is still unthreatened.
"In general the US still takes the lead as the No 1 country choice to study abroad for Chinese students. The percentage is 9.5 percent higher than that of the UK, the second most popular destination," Jin said.
The quality of education offered by US schools is the main reason for the US's dominance, according to Jin. In the report, 64.1 percent of interviewees listed "education quality" as the main factor behind their choice of destination country, about 20 percent more than those who based their choice on cost, the second most considered factor, Jin said.
"I think US schools have the highest level of education quality, unlike many schools in Commonwealth countries which make education more like a business," Zhang Yan, a recent Master's program graduate from Columbia University, said in an interview. "There are also so many good schools in the US to choose from."
"In addition, the US, unlike many other countries, gives you some leeway for local job hunting after the academic program. And there are numerous opportunities for scholarships," Zhang added.
This year's results differ from last year's significantly in the 10.6 percent jump in the number of people who think studying abroad will bring better career opportunities-- from 17.3 percent in 2013 to 27.9 percent this year.
"This means that today's job situation (in China), especially when the year of 2013 was considered 'the hardest year for employment', has greatly affected student's preference in education," Jin said.
The sun, however, does not always shine brighter in the foreign land, according to recent US graduates.
"Maybe I was overly optimistic (about the job opportunity studying abroad may bring). It is much harder than what I expected two years ago when I applied for graduate schools," said Liu Dong, a recent Columbia University graduate who only considered US schools for their better reputation and academic quality.
"But then the economy is bad in general, so the situation is not just bad for students studying abroad," Liu said. "And after all, if you make the decision to study abroad, you have to face it and look at the bright side."
Liu believes that the resources, connections and language abilities students may gain from studying abroad will benefit careers in the long term.
EIC's report also finds that the percentage of people who listed "climate and environment" as a major factor in their choice of study-abroad destination country rose from 21.9 percent in 2013 to 30.9 percent this year.
"Not only does the smog in China cause people to worry about environment, it may indirectly affect students' choice of studying abroad," the report said. "Also, students may want to study environmental science abroad so that they can help restore the blue sky when they come back to China," Jin said.
About half a million Chinese students will study abroad in 2014, according to the EIC Group report estimate. The 2013 Open Doors Report on International Educational Exchange said that, during the 2012-13 academic year, Chinese student enrollments at US higher-education institutions reached 235,597, compared with 194,029 a year earlier.
Zhang Yang contributed to this story and can be reached at yangzhang@chinadailyusa.com