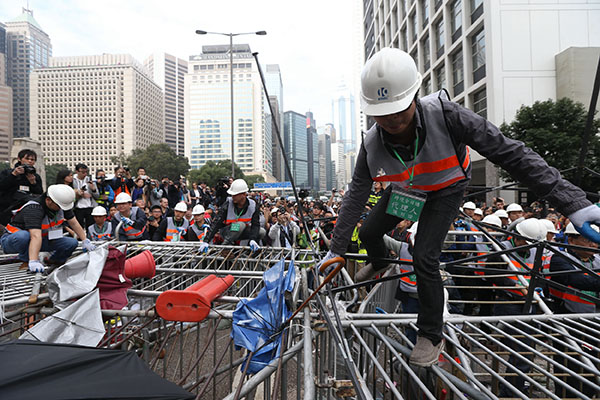 Workers remove barricades at an area blocked by protesters near the government headquarters building at the financial Central district in Hong Kong, December 11, 2014. [Photo by Roy Liu/Asianewsphoto]
Hong Kong police announced Saturday that they will clear the illegally occupied section of Yee Wo Street in Causeway Bay, the last remaining site, after completely clearing the other occupied sites in Mong Kok and Admiralty, People's Daily reported.
Police spokesman Chief Superintendent Steve Hui Chun-tak told a press conference that the section in Yee Wo Street has been illegally occupied. He added that sporadic clashes occurred, and some of them had turned dangerous. The illegal occupation has led to a severe traffic jam and seriously affected businesses there, thus, it is necessary to free up the street and bring the traffic back to normal, according to him.
At 9:30 am, the police will explain the operation to the press to improve transparency. He hoped that the protestors would cooperate and avoid clashes. He called for the illegal occupiers to remove barriers and their personal belongings as soon as possible and leave peacefully.
He said the police will not resort to force if there is no resistance or violence. But if the protestors refuse to leave, the police will try to disperse them or even detain those who obstruct the process.
He also said that protestors continued to gather at various sections of Mong Kok on Friday and early Saturday and seven were detained after they failed to respond to repeated warnings.
The Occupy protest in Hong Kong started on Sept 28 and blockaded several main roads and streets in Kowloon and Hong Kong island, which has resulted in serious traffic disruption, less tourists, temporary closure of schools and banks and a slump in local stock market trading. There had also been a series of clashes between protesters and police.
The chaotic scenes have raised worries and irritation among Hong Kong citizens.
A survey regarding the Hong Kong's economic outlook for 2015 reveals that 40 percent of the respondents were pessimistic about Hong Kong's future economy, while many said the Occupy protest stifles the economic growth of Hong Kong.
Simon Wong, president of the Federation of Restaurants and Related Trades, told the media on Wednesday that more than 3 billion HK dollars (about $387 million) of business loss was recorded in major business centers of Admiralty, Mong Kok and Causeway Bay, the main occupy sites, since the launch of Occupy Central in September.
Local authorities on Thursday started clearing barriers at Occupy sites in Admiralty to free up main roads and streets that have been blocked by protesters for more than two months. The clearance began in the morning at around 10:30 local time, when workers dismantled the barricades set up by the protesters after bailiffs read out court's injunction orders to protesters. The move was followed by a comprehensive clearing action taken by the police in the afternoon.