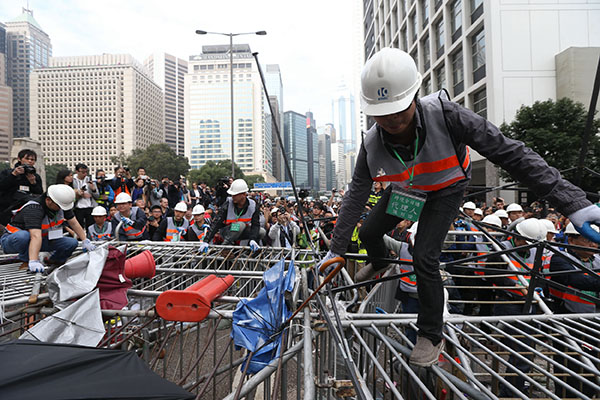 Workers remove barricades at an area blocked by protesters near the government headquarters building at the financial Central district in Hong Kong, December 11, 2014. [Photo by Roy Liu/Asianewsphoto]
HONG KONG - Hong Kong police started to remove protesters who refused to leave the Occupy protest area in the commercial district of Admiralty on Thursday afternoon.
A large crowd of protesters ignored the police appeal to withdraw from the protest site and sat on the ground shouting slogans. At around 16:30 local time, four police officers carried away the first protester and more were removed afterwards.
Local authorities on Thursday started clearing barriers at Occupy sites in Admiralty to free up main roads and streets that have been blocked by protesters for more than two months.
The clearance began in the morning at around 10:30 local time, when workers dismantled the barricades set up by the protesters after bailiffs read out court's injunction orders to protesters.
The move was followed by a comprehensive clearing action taken by the police in the afternoon.
Police officers formed a cordon in the Occupy area and started off the clearing. They removed tents, canopies and other obstacles left behind by the protesters and used bolt cutters and electric saws to take down large barriers.
The bailiffs declared that they would remove barriers in Connaught Road Central, Harcourt Road, Tim Wa Avenue, Tim Mei Avenue and Gloucester Road, asking the protesters to leave the Occupy area peacefully and not to impede law enforcement.
Workers in safety vests and helmets slowly removed barriers heavily stranded by adhesive tapes and iron chains with the use of cutters and pinchers.
Obstacles including water-barriers, wooden boards, bamboo sticks and road cones were removed and put on trucks to carry away.
The police earlier called on protesters to leave and not to hamper the clearance process. Police Senior Superintendent Kwok Pak-chung said there were enough manpower to maintain order and they would not hesitate to intervene if the protesters exercise violence to interfere with the bailiffs' work.
Several key figures of student groups and members of Hong Kong' s Legislative Council who refused to leave stayed at the Occupy sites in Admiralty, awaiting being taken away by the police.
The Occupy protest in Hong Kong started on Sept. 28 and blockaded several main roads and streets in Kowloon and Hong Kong island, which has resulted in serious traffic disruption, less tourists, temporary closure of schools and banks and a slump in local stock market trading. There had also been a series of clashes broke out between protesters and police.
The chaotic scenes have raised worries and irritation among Hong Kong citizens.
A survey regarding the Hong Kong's economic outlook for 2015 reveals that 40 percent of the respondents were pessimistic about Hong Kong's future economy, while many said the Occupy protest stifles the economic growth of Hong Kong.
Simon Wong, president of the Federation of Restaurants and Related Trades, told the media on Wednesday that more than 3 billion HK dollars (about 387 million US dollars) of business loss was recorded in major business centers of Admiralty, Mong Kok and Causeway Bay, the main occupy sites, since the launch of Occupy Central in September.
Hong Kong police assisted bailiffs in clearing the protest site in Mong Kok on Nov. 25 and 26. (1 US dollar = 7.75 HK dollars)