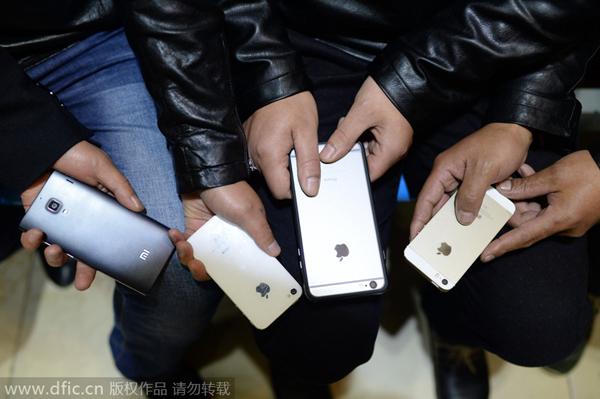 Four "professional beggars" show their iPhones, including an iPhone 6 Plus. They were caught in Chongqing Municipality for allegedly cheating money. [Photo/IC]

BEIJING - Ragged clothes, a tragic story and a begging bowl: beggars are not unusual sites in busy city squares or subway trains. But are they quite what they seem? Some could be richer than you.
On Saturday, four "professional beggars" were caught in southwest China's Chongqing Municipality, allegedly cheating money out of local people, according to China' s state broadcaster CCTV.
Local police were informed that four people were pretending to be penniless migrant workers, unable to return home on Saturday morning. When the police took the four to a local public security bureau they got more than they bargained for.
An initial investigation found the four to be from east China's Anhui Province. They disguise themselves as beggars before going on a "cheating tour" around the country. They usually claim to be migrant workers who lack the money to go home, and the public fall for it, one of them confessed to police.
Last month, they flew to Chongqing to "collect money" to prepare for Spring Festival -- Chinese New Year -- which falls on February 19. So far, each has raised some 800 yuan ($130). They all own pricey watches and iPhones. According to the police, one of them has an iPhone 6 Plus.
The "beggars" have confessed to their wrong doing and promised they will return home and never cheat again. An online discussion of the matter has attracted more than 3,000 comments.
"Even beggars are richer than me," read one comment.
"They have humiliated other real beggars," another said.
People are growing doubtful of beggars in China, according to a recent survey, of more than 20,000 respondents, 82.3 percent regard begging as cheating.
Stories of fake beggars in China abound and have frequently angered the public. Last week, several beggars were pictured counting money in a Beijing subway station, with one of them taking selfies with an iPhone.