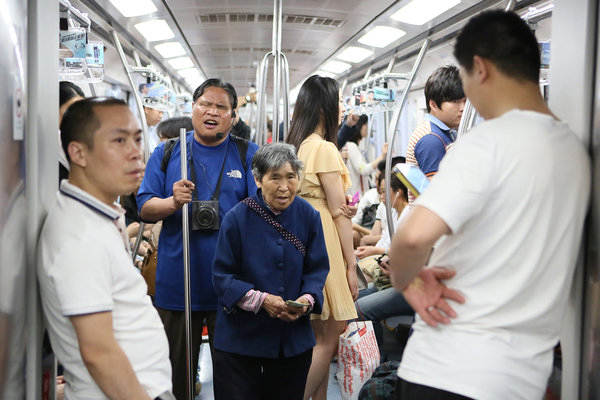 An elderly woman leading another man beg for money on the Beijing subway, May 25, 2014.[Photo/CFP]
Beijing legislators have voted to ban begging and distributing advertising brochures on the subway but not eating and drinking, Legal Evening News reported Friday.
The new subway operation and safety regulation, which comes into effect May 1, was passed Friday by the Standing Committee of Beijing Municipal People's Congress.
The regulation ruled out 17 dangerous acts that would undermine subway security, including entering the rail or the tunnel, and placing or abandoning barriers along the rail line.
In a subway station or train, people will not be allowed to beg, perform for money or dispense advertising pamphlets. The regulation also disallowed walking in the opposite direction of a moving escalator, running for fun, skateboarding, roller-skating or cycling.
The regulation stipulates that violators would receive a 50 yuan to 1,000 yuan ($8-$163) fine.
It also said that for people found dispensing advertising pamphlets, the fine could be raised to as high as 10,000 yuan if the offenders have caused a serious disturbance.
The controversial proposed ban on food in the subway did not appear in the regulation. The draft version of the regulation on rail traffic safety initially banned eating and drinking in subway carriages, and said offenders could be fined up to 500 yuan ($80). The proposal sparked a heated public debate.
A food ban could be included in the non-binding code of practice for passengers, according to an official with the municipal government.