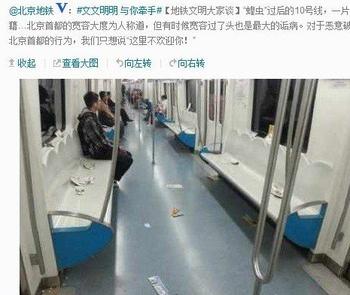 Screenshot of Beijing Subway's post on Sina Weibo which has been deleted. Photo shows littering scattered on a Line 10 train. [Photo from Weibo]
A controversial micro-blog post from Beijing's metro operator, which called passengers who littered on a train "locusts", was removed from the company's site on Monday.
Beijing Mass Transit Railway Operation Corp said the remark was from an editor of the company's micro-blogging department and was meant to ask people to respect the no littering signs when riding the subway, the Beijing Times reported.
The post was released on Sunday with a picture of litter scattered on a Line 10 train including a message saying the mess was caused by "locusts".
On Monday, Beijing Mass Transit deleted the controversial post.