Experts in HIV/AIDS hope to widen the coverage of healthcare and extend life expectancy, as Shan Juan reports.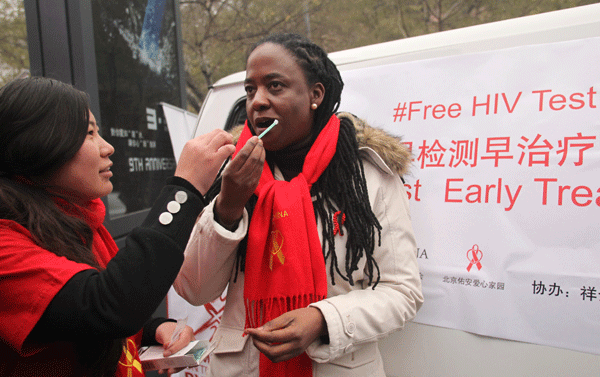 Catherine Sozi, UNAIDS country director of China, takes a rapid test for HIV/AIDS on Saturday in Beijing during a campaign to mark World Aids Day, which falls on Dec 1 every year. Volunteers also provide information and tools to fight the disease. Zou Hong / China Daily
China's top health authorities are mulling fine-tuning the guidelines for HIV tests next year to ensure that people with the disease can begin antiretroviral treatment as early as possible, and attain life expectancies similar to those of healthy people, the country's leading HIV/AIDS specialist has said.
Wu Zunyou, head of the National Center for AIDS/STD Control and Prevention, made the remarks on Saturday at a media event ahead of World AIDS Day, which falls on Dec 1.
Thirty years into the epidemic, "the current treatment, if started early, could prolong sufferers' life expectancy to almost the same as that of healthy people, but we still see patients too late to treat and die from AIDS", Wu said, adding that early treatment also helps with preventative work because ART lowers the patient's HIV viral load.
In response, the National Health and Family Planning Commission issued new treatment guidelines in April, requiring ART for patients whose CD4 count falls below 500. Before the new guidelines the figure was 350. CD4 cells are white blood cells that help fight infection, with a range of 500 cells per cubic millimeter of blood in HIV/AIDS patients to 1,200 cells in healthy people.
Wu Hao, director of the department of infectious diseases at the You An Hospital in Beijing, said that 80 percent of patients who start their treatment late, with a CD4 count below 500, will suffer an impaired and irreversibly low level of immunity.
To improve the chances of early treatment, Wu's department has been piloting a new testing strategy that offers gay men with AIDS/HIV a course of ART after two so-called rapid tests - usually conducted with dipsticks or swabs - both confirm that the patient is HIV-positive, he said.
The pilot is supported by the AIDS Healthcare Foundation, one of the largest NGOs for AIDS treatment and care in the world. Founded in Los Angles in 1987, the AHF has so far provided medical care to more than 300,000 AIDS patients in at least 20 countries, including China.
Rapid tests can indicate a person's HIV status within 10 minutes, and the test kit is widely available at both brick and mortar and online drugstores.
However, most treatment sites in China offer ART only after lab-based confirmation, but "that can take as long as six months in some remote areas", said Wu Hao.
Lost patients
Moreover, many patients who undergo the tests simply disappear and never return for the results and treatment, he warned, adding that late treatment means a higher risk of opportunistic infections and shorter life expectancy.
Under the new guidelines, however, the time lapse between diagnosis and the start of ART treatment at the You An Hospital is only about two weeks, a drop from about two months, he said.
So far this year, more than 1,000 patients have started ART at the hospital, and at least 80 percent asked for early treatment if possible.
A patient surnamed Feng, a 21-year-old gay man, started treatment in September with a CD4 count of more than 700 and has been doing well.
"The scientists say AIDS can be controlled with early ART, just as chronic diseases such as diabetes and hypertension are controlled with other drugs," said Feng, a university student in Beijing. "My only concern is if early treatment leads to quicker resistance to the medicine."
In response, Wu said: "Good drug compliance can avert resistance. But it's a double-edged sword because of the possible side effects of ART."
So far, only 30 of the more-than-3,800 patients treated at the You An hospital have developed a resistance to their medicines, mainly because of bad drug compliance, he said.
Peter Reis, vice-president of the AHF, said the pilot is aimed at changing the testing policy in China. "To get a confirmatory result takes too long, and the patient in question usually falls away and is lost to the system," he said, adding that it's preferable for all treatment sites to have the facilities to conduct double rapid tests to diagnose HIV, and then briefly put the patients on early treatment, he said.
"That puts the (treatment) sites in a powerful position to link the patients to care immediately, and it's what we do in the US," he said.
Wu Zunyou was in full agreement, and said pilots such as this had been already conducted in China's worst-hit areas, such as Yunnan province. However, fearing potentially inaccurate results, some AIDS doctors are reluctant to conduct the tests, he added.
He said the authorities have been working to further encourage the new strategy and widen the coverage of treatment available.
Catherine Sozi, UNAIDS country director of China, welcomed the initiative, saying that in many countries, "AIDS treatment is not seen as rocket science, and nurses can begin administering the treatment to patients," she said.
Usually, the nurse can start administering ART after two positive rapid tests using kits made by two different manufacturers, according to Sozi. "This is obviously what the Chinese government needs to think about, but the exact implementation plan should be tailored to the Chinese context," she said.
For example, in South Africa, where the HIV epidemic has been particularly serious, treatment was the province of the nurses, and only the most complicated cases were referred to the doctors.