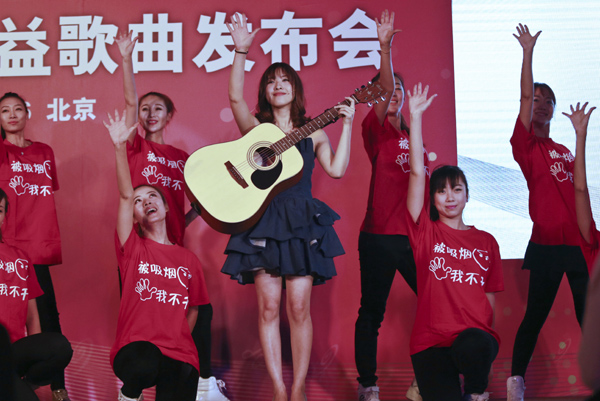 Singer Zhang Hanzhi sings Say No to Forced Smoking at an anti-smoking event sponsored by the Gates Foundation in China on Wednesday night. China has more than 300 million smokers, with 740 million people exposed to secondhand smoke annually.[FENG YONGBIN/CHINA DAILY]
Bill Gates, co-chairman of the Bill and Melinda Gates Foundation, has a cameo role in a Chinese anti-smoking music video, which is part of a social media campaign launched by the foundation against passive smoking.
Feng Zhe, a gold medalist on the parallel bars in the 2012 Olympic Games, released his song Say No to Forced Smoking on Wednesday. Gates appears in the video wearing a T-shirt bearing the words of the song title.
Yang Jianyue, deputy director of the Gates Foundation in China, said the song is the latest initiative in a social media campaign that began in October. The foundation has joined with social media and philanthropic partners in calling on netizens to submit witty sayings against secondhand smoke.
China has more than 300 million smokers, and another 740 million people are exposed to secondhand smoke each year, according to the National Health and Family Planning Commission.
The campaign's micro blog received more than 40 million hits, and tens of thousands of people voiced their support for the initiative in its first two weeks, Yang said.
"That's why tobacco control needs social media where you can have other people talking for you and becoming part of the solution," said Angela Pratt of the WHO Tobacco Free Initiative in China. "Smoking is not cool, while smoking control can be cool and dynamic."
The UN health body in China will broadcast anti-smoking videos submitted by contestants from both China and the United States through online outlets including its own Sina Weibo account next week, Pratt said.
Viewers can vote for their favorites online, and the winners will be eligible to interview for World Health Organization internships.
A draft of China's first national regulation to control smoking in public places was published on Monday for public comment. A 100 percent smoking ban is part of the draft for all indoor public places.
China's size and vast population make law enforcement difficult for the government alone, said Wu Yiqun, deputy director with the ThinkTank Research Center for Health Development.
"Such a social media campaign helps disseminate the message, particularly among the younger generation, to raise awareness of the harms of secondhand smoking and the right to protect your health from passive smoking. Everyone should say no to that," she said.
The catchphrase, "Say No to Forced Smoking!" was first coined by Bill Gates in 2011 and is part of the foundation's public advocacy in China, Yang said.
Last year, President Xi Jinping met with Gates at the annual Boao Forum for Asia in Hainan province.
Xi said China would deepen its cooperation with the foundation, especially in HIV/AIDS prevention and control, smoking control and tuberculosis intervention.