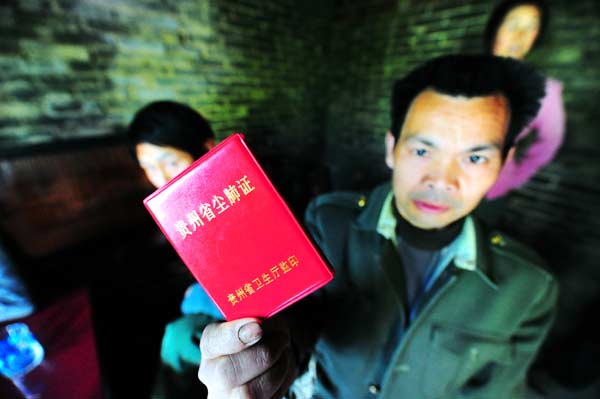 Undated file photo of Du Chunde from Guizhou province receives a government-issued booklet identifying him as a pneumoconiosis patient which entitles him to medical and living subsidies. [Photo provided to China Daily]
Spike in cases since 2008 poses challenges for health authorities
The manufacturing province of Guangdong faces the challenge of reducing the incidence of occupational diseases, health authorities said.
The rate has increased by an average of 30 percent every year, with 600 to 700 new cases annually, since 2008, according to the Guangdong Prevention and Treatment Center for Occupational Diseases.
The actual number may be 40 times that, the center's director, Huang Hanlin, said on Tuesday during a provincial conference about the prevention and treatment of occupational diseases.
"Only a limited number of diseases are included in China's current list of occupational diseases. There are also missed diagnoses and cases not reported," he said.
While pneumoconiosis is the dominant occupational disease in other provinces, organic solvent poisoning, vibration syndrome and occupational cancer affect nearly as many workers in Guangdong.
In Guangdong, pneumoconiosis accounts for 38 percent of diagnosed occupational diseases - the percentage is 80 percent in other provinces - and organic solvent poisoning accounts for 30 percent.
A worrying trend is the increasing number of workers diagnosed with occupational cancer, with contact with benzene being the major reason.
Benzene is used in industries such as shoemaking, leather bag and suitcase making, furniture manufacturing, and petrochemical engineering, Huang said.
Even workers in gas stations risk benzene poisoning if they are exposed to air containing benzene for more than 10 years, he added.
Huang said 20 million people in the province's labor force of 60 million have contact with occupational hazards, dust, chemical toxicant, noise, or radioactive substances.
Having many small and medium-size enterprises in Guangdong also makes it difficult to prevent the situation from getting worse.
Peng Peng, a senior researcher at the Guangzhou Academy of Social Sciences, said that many patients of occupational diseases in China, mainly migrant workers and those at private enterprises, are not well-protected from the hazards because employers have poor legal awareness and want to lower their costs.
Du Zili, 38, was diagnosed with occupational N-hexane poisoning after cleaning cellphone screens at an electronic company in Dongguan for a year and a half. He suffers muscular atrophy and needs long-term treatment, but the company hasn't paid for his medical costs yet.
"Efforts should be made to improve the laws and regulations to punish those employers who don't compensate employees for occupational diseases," Peng said.
"Also, greater support for the prevention and treatment centers for occupational diseases, such as supplementing personnel and equipment and putting in extra beds, is needed," he added. "It will be helpful to set up more non-governmental hospitals specializing in occupational diseases."
Research on the diagnosis and treatment of occupational poisoning and occupational lung disease, under a national science and technology supporting program, began in the Guangdong Prevention and Treatment Center for Occupational Diseases on Tuesday.
The research focuses on seven kinds of occupational diseases and will include clinical application. The research is expected to be finished in December 2016.
Zhou Chutian contributed to the story.
xujingxi@chinadaily.com.cn
Related news:
New pneumoconiosis cases decrease in 2013
Black lung disease will take your breath away